For more information on The Kitchen Counter Cooking School by Kathleen Flinn, please see my review.
One of the first things that showed Kathleen Flinn just how excited people could be about learning their way around a kitchen was her knife demonstration as part of a book event in France. As such, it makes sense that she is passionate about sharing knife skills and techniques, as she demonstrates in this video. I must say, I feel stupid that it never occurred to me to cut a zucchini this way:
I have a finished copy of the book, plus this really cool kitchen conversions magnet for one lucky reader and aspiring cook with a US mailing address.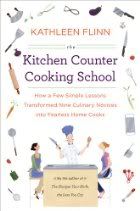 Simply fill out the form below by 11:59 PM on Wednesday, October 19, 2011.
FORM
Copyright protected by Digiprove © 2011