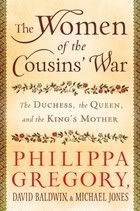 The Women of the Cousins' War: the Duchess, the Queen, and the King's Mother by Philippa Gregory, David Baldwin, and Michael Jones
Published by Touchstone, an imprint of Simon & Schuster

Philippa Gregory is a prolific author, but she is undoubtedly best known for her two series that take place within two consecutive periods of English history, the two that are perhaps the best well-known to devotees of historical fiction: The War of the Roses and the reign of the Tudors. This period of English history is so vivid to many readers that they crave more and more information, to know what is true and what is not. This is not, however, a question of which Gregory thinks very highly:
Some readers want to know the proportion of fact to fiction – as if fact and fiction were not combined in every form of writing, as if historical fiction were a recipe. Some readers want to identify the facts from the fiction; but this is to deny the very form of the novel: something that combines fact and fiction. -p. 11
Gregory instead argues that both fiction and nonfiction have a measure of "speculation, imagination, and creativity." Even so, writers of historical fiction must do their research somewhere, and the lives of the women involved in the War of the Roses are particularly under-researched, having been largely ignored by their contemporary historians. Biographies of Margaret Beaufort and Elizabeth Woodville do exist, thanks to their close proximity to kings, but facts about Jacquetta of Luxembourg are few and far between. In an attempt to remedy this, Gregory teamed up with historians David Baldwin and Michael Jones to write biographies of all three women.
Baldwin's biography of Elizabeth Woodville is somewhat more entertaining and informative than Gregory's of Jacquetta and Jones's of Margaret Beaufort. Even so, all three biographies were remarkably consistent in tone, voice, and content. Although I am not a historian, the history presented in The Women of the Cousins' War seems sound, the opinions drawn logical and apparently supported by fact.
Even though Gregory is somewhat dismissive of readers who want to separate fact from fiction, The Women of the Cousins' War is a good resource for those whose readers whose interest in the War of the Roses has been piqued by Gregory's Cousins' War series and other similar works of historical fiction.
Buy this book from:
Powells | Indiebound*
Source: Publisher.
* These links are all affiliate links. If you buy your book here I'll make a very small amount of money that goes towards hosting, giveaways, etc.
Copyright protected by Digiprove © 2011