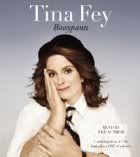 Bossypants by Tina Fey, narrated by Tina Fey
Published in audio by Hachette Audio, published in print by Reagan Arthur Books, both imprints of Hachette
If you posted an audiobook review today, Monday June 6th, please leave your link in the Mr. Linky before midnight Central time (US) and you will be eligible to win a prize.
Synopsis:
Tina Fey is a smart, funny woman, a working mother. Before she was famous for her work on SNL – particularly playing Sarah Palin – she was a member of Second City and, before that, a young girl who had a lot of gay friends in summer theater.
In Bossypants, Fey touches on motherhood, feminism, working at SNL and 30 Rock, and her life growing up.

Thoughts on the story:
If you are expecting a deep treatise on feminism or working motherhood, you might be disappointed by Bossypants. Except I highly doubt you can stay disappointed for very long. Fey might not spend an inordinate amount of time or depth on any one topic, but every section of the book is rife with her trademark wit, and she hits every note beautifully, nary a joke falls flat.

Thoughts on the audio production:
Tina Fey is hilarious narrating her own life. For someone with the comic timing and delivery that she has, narrating your own memoir is an absolute must. Honestly, I simply can't imagine any other narrator doing justice to Fey's unique voice. The audio did mean missing the immediacy of seeing the pictures of Fey growing up, but Hachette included a pdf of all of the pictures along with the audiobook and Tina Fey references them so the listener knows when to when to check them out, or at least remembers the context when it is convenient to open the document. And huge plus for the audiobook? The fact that they were able to get the license to include the audio of the SNL skit where Tina Fey first played Sarah Palin. That alone makes it worth listening to.
Overall
Fey's writing is sharp and smart enough that I imagine Bossypants must work quite well in print, but for the added emotion and humor of Tina narrating her own work, I must strongly recommend experiencing Bossypants in audio.

Buy this book from:
Powells: Audio/Print*
Indiebound: Audio/Print*

Source: library.
* These links are all affiliate links. If you buy your book here I'll make a very small amount of money that goes towards hosting, giveaways, etc.
Copyright protected by Digiprove © 2011