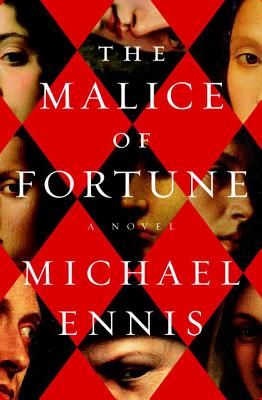 The Malice of Fortune by Michael Ennis
Published by Doubleday Books, an imprint of Random House
Before Cesare was reinvented from a lowly Cardinal to a militarily powerful Duke controlling much of Italy there was a different favorite Borgia son. Pope Alexander VI's most beloved child was his son Juan, the young man whose unsolved murder rocked the Borgia family. Damiata is the woman whose house Juan was allegedly on his way to when Juan was murdered. An infamous courtesan, Damiata was also Juan's mistress, and one of the few people who knew his plans for the evening – a fact that has made her one of the top suspects in the conspiracy that killed Juan.
Now, some five years after Juan's murder, clues are beginning to turn up. Specifically, an item that Juan was wearing when murdered is found with a piece of a dead body in Imola, a city currently occupied by Cesare and the condotierri – mercenary warlords who are also suspected in Juan's death. The Pope has decided to offer Damiata one chance to clear her name: she must travel to Imola and discover who is killing women since there must be a connection to Juan's death. While in Imola, Damiata makes the acquaintance of a Florentine diplomat, one Niccolo Machiavelli, and the great artist and engineer Leonardo DaVinci, both of whom have particular skills that will allow them to discover who, exactly, is behind these murders. The fate of much of Italy depends on their results.
The Malice of Fortune is not a The DaVinci Code-style thriller. Ennis took the real players in Italy and Juan's murder, along with verifiable character traits and whereabouts and created mystery and motivations to explain many of their actions. As a result, The Malice of Fortune reads more like straight historical fiction with suspense and mystery than like an historical thriller, or even an historical mystery. The first quarter or so of the book is narrated by Damiata, the rest by Machiavelli. Machiavelli is probably the best-developed character in the entire book, and The Malice of Fortune essentially becomes about how the republic-minded Machiavelli came to write an homage to the dictatorial Cesare Borgia in The Prince, his best-known work, and thus be associated with despotic actions for the rest of history.
There is a lot going on in The Malice of Fortune and the lesser characters aren't always very fully developed, but Ennis's story is fascinating, particularly once you realize he's really creating a backstory for one of the most famous books of political theory in the Western world. Recommended.
Buy this book from:
Powells | Indiebound*
Source: Publisher.
* These links are all affiliate links. If you buy your book here I'll make a very small amount of money that goes towards hosting, giveaways, etc.
Copyright protected by Digiprove © 2012