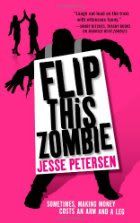 Flip This Zombie by Jesse Petersen
Published by Orbit Books, an imprint of Hachette
This is the second book in the Living With the Dead series. My review of Married With Zombies.
Sarah and David are back, and still more or less surviving the zombie apocalypse. With the skills they honed in the early days of the end times, they have actually set up quite a nice little business for themselves, ZombieBusters. There may not be very much cash to be made in the zombie apocalypse, but that doesn't mean there is nothing at all to be gained.
"We ended up with quite a haul as pre-payment for the bionic zombie job. Two large first aid kits with actual antibiotics ointment (quite the coup because infection took down as many survivors as zombies did by this point) and a three-pack of Ramen. Doesn't sound like much to you? Well, sit there in your non-zombie paradise and judge then." -p. 16 (Nook edition)
Things begin to get a little tense, though, when Sarah and David are called out to the outskirts of town by a mysterious note, their services retained by a man who is clearly a mad scientist. David is convinced that his request for ambulatory zombies is related to the rise of so-called super zombies and proof of evil mad scientist status, but Sarah feels their potential reward is greater than the risk, so off they go, hunting for the living undead.
In the same way that Married with Zombies mimicked the style of relationship books, Flip This Zombie ventured into the motivation/job-related self-help realm, with chapter headings like:
"The seven habits of highly effective zombies. Hint: Most of them involve eating your brain." -p. 132 (Nook edition) – Chapter 14 heading
This worked very well, although it was not quite as entertaining as the marriage advice chapter headings in Married with Zombies, but overall Flip This Zombie was equally as strong as Married with Zombies. I'm very much looking forward to Eat Slay Love, coming out at the end of June. Recommended.
Buy this book from:
Powells | Indiebound*
Source: Personal copy.
* These links are all affiliate links. If you buy your book here I'll make a very small amount of money that goes towards hosting, giveaways, etc.
Copyright protected by Digiprove © 2011