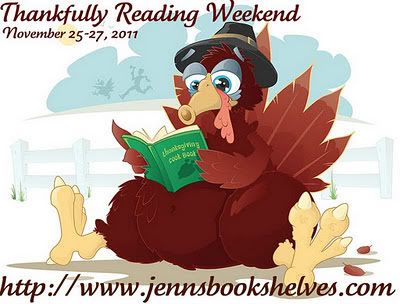 This has been a weekend of pure deliciousness, but at this point we're all learning that sometimes you can have enough of a good thing. I mean, who could POSSIBLY consume all of that? It just isn't humanly possible!
Oh, did you think I was talking turkey? I meant all the books you've all been reading for Thankfully Reading Weekend! Let's face it, when it comes to how many books we think we can read, most of us usually have eyes bigger than our, well, eyes. As the weekend is drawing to a close, it is time to come to terms with the fact that some of the books we so anxiously wanted to be will basically be leftovers.
What are your leftovers today? And, forgive me for stretching this metaphor farther than it should probably go, how will you find ways to consume them in the coming week? Or will they be put in the metaphorical freezer, for you to come back to perhaps months from now, a little frost-bitten but still basically good?
Okay, seriously, I'm stopping now, but you get the drift!
Leave your answer in the comments below, either in the body of the comment, or as a link to a post on your blog. One person who responds today will win a random book grab bag from my shelves.
Copyright protected by Digiprove © 2011