Welcome to Saturday Story Spotlight, my feature where I discuss books my husband and I are reading with our son, Daniel. These are books that he, we, or all of us particularly enjoy.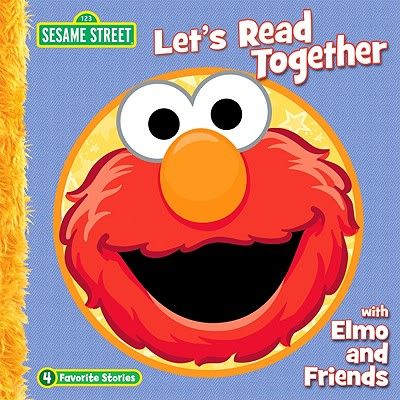 Let's Read Together with Elmo and Friends (various authors)
Published by Piggy Toes Press (website | facebook)

Let's Read Together with Elmo and Friends is an anthology of four Elmo stories which were each originally standalones. The stories included are: Hello Elmo; Count to 10; Elmo ABCs; Sleep TIght.
This is definitely a favorite of Daniel's. He was playing while I was getting ready to write this post, but at soon as he saw me pull out the book, he stopped when he was doing and started to hang off of me, asking me to please read him one of the stories. We read Hello Elmo, which has some really fun interactive elements, including Elmo making funny faces and asking you to make funny faces back at him. Daniel likes that particular part so much that he flipped straight back to it, as soon as we had finished that story so he could practice all of Elmo's funny faces.
The stories included in Let's Read Together with Elmo and Friends are all great. In fact, Elmo's ABCs is the same story we featured here previously after borrowing the individual story from the library.The only slightly odd thing is the anthology nature of the piece, since each of the stories was originally written and illustrated by someone different. The different authors are not so obvious as the different illustrators, it is a little strange that Elmo and the rest of the characters look different in each story. Such is the nature of anthology, I suppose.
Piggy Toes Press is currently offering free shipping on orders placed through its website.
Buy this book from:
Powells | Indiebound*
Source: Publisher
* These links are all affiliate links. If you buy your book here I'll make a very small amount of money that goes towards hosting, giveaways, etc.
Copyright protected by Digiprove © 2011