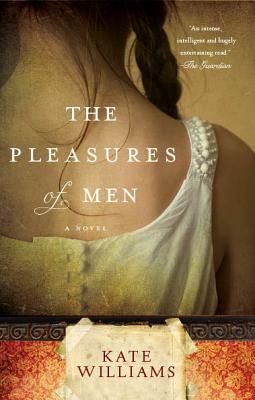 The Pleasures of Men by Kate Williams
Published by Hyperion Books
From the publisher:
July 1840: The young Queen Victoria has just entered her third year on the throne when a major recession brings London's desperate and destitute into its sweltering streets. While the city crackles with tension, orphaned Catherine Sorgeiul stays locked away in her uncle's home, a peculiar place where death masks adorn the walls and certain rooms are strictly forbidden. Nineteen years old and haunted by a dark past, Catherine becomes obsessed with a series of terrible murders of young girls sweeping the city. Details of the crimes are especially gruesome–the victims' hair has been newly plaited and thrust into their mouths, and their limbs are grotesquely folded behind them, like wounded birds–and the serial killer is soon nicknamed the Man of Crows.

Catherine begins writing stories about the victims–women on their own and vulnerable in the big city–and gradually the story of the murderer as well. But she soon realizes that she has involved herself in a web of betrayal, deceit, and terror that threatens her and all those around her. A remarkable fiction debut, The Pleasures of Men is a gripping and spine-tingling thriller.
The most interesting thing about The Pleasures of Men is not the Man of Crows, but Catherine and her backstory. Williams keeps the reader in the dark as to Catherine's true secret for much of the book, offering tantalizing hints throughout. Catherine's past has stressed her personality and even her sanity, giving The Pleasures of Men an occasionally choppy and distressing quality, in order to fully represent Catherine's state of mind. It can be a frustrating storytelling technique, but it is also quite effective and adds to the suspense of the murderer's identity.
For more, please see my review for the SheKnows Book Lounge.
Buy this book from:
Powells | Indiebound*
Source: Publisher.
*These links are all affiliate links. If you buy your book here I'll make a very small amount of money that goes towards hosting, giveaways, etc.
Copyright protected by Digiprove © 2012