Welcome to BOOK CLUB, which I run with co-conspirator Nicole from Linus's Blanket. Today we will be chatting about The Taste of Salt by Martha Southgate, which was released on September 27th by Algonquin Books (website | twitter | facebook). For those of you reading this post, please remember that this discussion is likely to contain spoilers.
Here is the synopsis of the book I wrote for my review:
Josie Henderson wants nothing more than to leave her family and the legacy of addiction behind her. She's married now, a successful scientist at the Woods Hole Oceanographic Institution. Still, though, she is terrified that if anyone at work new about her family she would go from being the only black female scientist to be the black girl whose daddy used to be a drunk and whose brother is in rehab. Life had been going more or less smoothly, but now her brother Tick's release from rehab forces Josie to once again face her family. When a new scientist with a background similar to Josie's own joins the staff at Woods Hole, it quickly becomes apparent that Josie's carefully constructed life is simply a veneer, and that what is underneath is not as solid as she believes.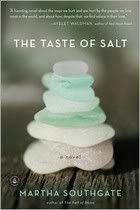 Before we get started, here are some of the reviews of readers who will be participating today:
1330v
Between the Covers
Caribou's Mom
Cheap Black Pens
Devourer of Books
The Feminist Texan [Reads]
Linus's Blanket
Rhapsody in Books
Savvy Verse & Wit
If you plan on participating in today's BOOK CLUB, please consider subscribing to comments at the bottom of the page (please use the TOP subscription option, the second option will subscribe you only to replies of your own comments). I will be updating this post with new questions and ideas over the course of the day.
Here we go…
First off, what were your general impressions of the book?
Is this a book you would have read had you not been reading it for a book club?
It is not always immediately apparent which family member is narrating a given chapter. What do you think Southgate's purpose is in structuring her story like this, and do you think it worked well?
Josie feared that if people knew she was a black girl with an alcoholic brother they would judge her harshly. How did she let this influence her life?
Did Josie's marriage ever have a chance? What were the problems they faced, and how might they have been overcome?
Do you think that Josie and Ray have hope of a real reconciliation at the end of the book? Why? What brought them to this place?
Did you have any other questions about the book that you hoped to get answered?
Copyright protected by Digiprove © 2011