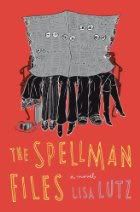 The Spellman Files by Lisa Lutz
Published by Simon & Schuster

Perhaps you remember, but I recently adored Head You Lose, Lisa Lutz's new book, with cowriter David Hayward. Based on my love for Heads You Lose and the recommendations of many readers I trust, I decided that the next new series I start would have to be Lisa Lutz's The Spellman Files. I took the first book out from the library and it sat around my house for a few days. Then last week, when I felt myself on the verge of a reading slump, I had a feeling that The Spellman Files might just be the cure for what ailed me.
It is quite difficult to describe the plot of The Spellman Files without making it sound convoluted and ridiculous, which it really isn't. Anyway, there's Izzy Spellman, second of three children in the Spellman clan, although she's more or less an adult now. Izzy's parents are private investigators, and she's been involved since she was old enough to trail a perp – although she was very distracted by pot and petty vandalism as a teenager. Now she lives with her parents, 12 year old sister Rae, and their Uncle Ray who has turned to a life of alcohol and debauchery, after clean living gave him cancer. Rae and Ray are at war, and Izzy is trying to hide from her parents her relationship Exboyfriend #8, the dentist who thinks she is a teacher. There are footnotes scattered liberally throughout the book as asides from Izzy, and some of the subplots have their own set of chapter numbers, so you can read two chapter 2s in a row. It is also clear that most of what is being told is leading up to a time when Rae is missing, and Izzy is trying to tell her story to a detective in the present to give him background on Rae. Luckily these scenes with the detective are in a different font from the rest of the book, so they are easily distinguishable.
See? I didn't do a very good job convincing you that this book isn't overly complicated. The thing is, though, Lisa Lutz makes it work. I never had to stop and think about which story thread I was following, even when I did read two chapter 2s in a row. Everything is weaved together so effortlessly, that I just relaxed and went along for the ride. Anyway, I totally loved The Spellman Files, Lutz has a real talent for very funny mysteries. I can't wait to read the rest of the series, I will definitely be keeping them on hand for when I need a change of pace.
Highly recommended.
Buy this book from:
Powells | Indiebound*
Source: library.
* These links are all affiliate links. If you buy your book here I'll make a very small amount of money that goes towards hosting, giveaways, etc.
Copyright protected by Digiprove © 2011