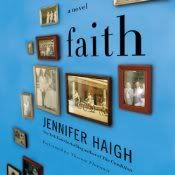 Faith by Jennifer Haigh, narrated by Therese Plummer
Published in audio by Harper Audio; published in print by Harper Books, both imprints of HarperCollins
Synopsis:
It is 2002, and Sheila McGann has never regretted leaving the Catholic Church less – nearly the only thing the news reports talk about these days are the priest sex abuse scandals. That these things happen is not particularly a surprise to Sheila, but that her beloved elder brother Art has been accused is a shock bar none.
Thoughts on the story:
I think it is best, actually, to go into Faith without knowing too much about it; at its most basic it is the story of a family whose world view is being severely challenged and whose life is being torn apart. Not only that, it is one of the best books I have read in a long time. Haigh has amazing pacing, and even better characterization and storytelling. I didn't have a single issue with the plot, the writing, anything while listening. It is a deeply emotional story that rockets the reader deep inside the inner lives of the McGanns, a story you won't want to put down.
Thoughts on the audio production:
Plummer's narration is extremely strong, emotional but not overwrought; she hits every note perfectly. The audio production of Faithis so fabulous I was searching high and low for something, anything to do that would give me more listening time. It would not be an overexaggeration to say that I tried my best to plan my life that week around getting more time to listen to Faith.
For a more in-depth review of the audio, please see my review for Audiofile Magazine.
Overall
Faith was simply amazing and it will without question be making my 'best of' list at the end of the year, thanks in equal part to Jennifer Haigh's writing and Therese Plummer's narration.
Very highly recommended.
Buy this book from:
Powells: Print*
Indiebound: Print*
Audible: Audio
I'm launching a brand-new meme every Friday! I encourage you to review any audiobooks you review on Fridays and include the link here. If you have reviewed an audiobook earlier in the week, please feel free to link that review as well. Thanks to Pam for creating the button.
Source: Audiofile Magazine.
* These links are all affiliate links. If you buy your book here I'll make a very small amount of money that goes towards hosting, giveaways, etc.
Copyright protected by Digiprove © 2011