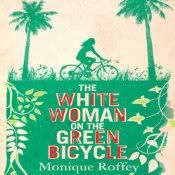 The White Woman on the Green Bicycle by Monique Roffey, narrated by Adjoa Andoh
Published in audio by AudioGo, published in print by Penguin (Non-Classics)

Synopsis:
Sabine Harwood is sick to death of Trinidad. She and George were supposed come for three years, and now they have been here for decades, through the fall of colonialism, through periods of hope and despair. Her children were born here, and her daughter's children. Like it or not, Trinidad has become an integral part of her life.
Thoughts on the story:
The White Woman on the Green Bicycle is a fabulous and personal look at colonialism and post-colonial living in the Caribbean. Sabine and George are particularly interesting character studies, with their feelings towards Trinidad. Although Sabine hates her time there and wants the family to leave as soon as it is possible, she is the one who who seems to have a feeling of empathy for the island and the people who live there. Part of her frustration is the mismanagement when there was so much potential after the granting of independence. George, on the other hand, love the experience of living in Trinidad, but for most of their time there what he really loves is the feeling of being a big fish in a small pond, the health of the island nation is not of particular concern to him. Between these insights and the lyrical writing, The White Woman on the Green Bicycle makes for a fascinating story.
Thoughts on the audio production:
The quality of narration in White Woman on a Green Bicycle is simply astounding. Adjoa Andoh is the narrating equivalent of a chameleon. For more details on the audiobook, please see my review for Audiofile Magazine.
Overall:
A simply amazing production. Highly recommended.
Buy this book from:
Powells: Print*
Indiebound: Print*
Audible.com

I'm launching a brand-new meme every Friday! I encourage you to review any audiobooks you review on Fridays and include the link here. If you have reviewed an audiobook earlier in the week, please feel free to link that review as well. Thanks to Pam for creating the button.
Source: Audiofile Magazine.
* These links are all affiliate links. If you buy your book here I'll make a very small amount of money that goes towards hosting, giveaways, etc.
Copyright protected by Digiprove © 2011