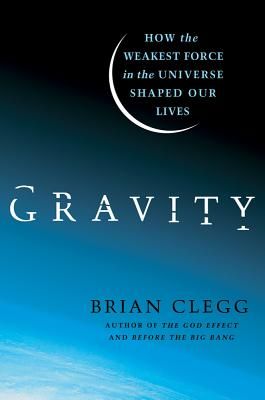 Gravity: How the Weakest Force in the Universe Shaped Our Lives by Brian Clegg
Published by St. Martin's Press, an imprint of Macmillan
From the publisher:
A history of gravity, and a study of its importance and relevance to our lives, as well as its influence on other areas of science. Physicists will tell you that four forces control the universe. Of these, gravity may the most obvious, but it is also the most mysterious. Newton managed to predict the force of gravity but couldn't explain how it worked at a distance. Einstein picked up on the simple premise that gravity and acceleration are interchangeable to devise his mind-bending general relativity, showing how matter warps space and time. Not only did this explain how gravity worked – and how apparently simple gravitation has four separate components – but it predicted everything from black holes to gravity's effect on time. Whether it's the reality of anti-gravity or the unexpected discovery that a ball and a laser beam drop at the same rate, gravity is the force that fascinates.
In many ways, Brian Clegg's Gravity is a work of popular science. The early chapters, particularly those dealing with the Greeks, are extremely accessible, and provide a good basis for the workings of gravity by examining the erroneous beliefs about the force that used to prevail. Clegg is a clear and engaging writer, but as we approached the present, I began having a harder and harder time with the book. This was not the fault of Clegg, his writing, or the way the book was laid out. I blame science. As we have gained a better understanding of how gravity and other forces in the universe work, the explanations have become increasing complicated and mathematical. Sadly, by midway through the 20th century, my long-ago high school physics was no longer quite enough to help me wrap my brain around exactly what Clegg was trying to impart and reading – for me – became a slog. I might have been able to get through this in audio with a good narrator, where I could just let the too-difficult parts wash over me and glean what I could, but in print it was a word-by-word battle and eventually I had to concede defeat.
Gravity really is a very interesting book about a very interesting and important force, but a good basic grasp of physics and/or a willingness to spend a lot of time puzzling over the details is a must to enjoy it.
Buy this book from:
Powells | Indiebound*
Source: Publisher, via Netgalley.
* These links are all affiliate links. If you buy your book here I'll make a very small amount of money that goes towards hosting, giveaways, etc.
Copyright protected by Digiprove © 2012