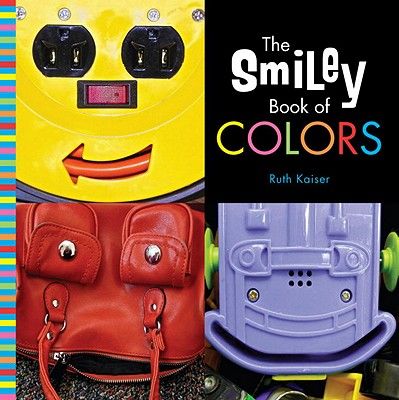 Welcome to Saturday Story Spotlight, my feature where I discuss books my husband and I are reading with our son, Daniel. These are books that he, we, or all of us particularly enjoy.
The Smiley Book of Colors by Ruth Kaiser
Published by Golden Books, an imprint of Random House
Smiles are contagious, whether from a family member, or made out of macaroni and cheese. Ruth Kaiser makes a point of seeing – and photographing – smiley faces everywhere and they are highlighted in The Smiley Book of Colors. Sorted by color and accompanied by brief rhyming text on each page, there are some 30 smileys faces found in every day items in The Smiley Book of Colors in addition to those found on the end papers.
I must admit, I was skeptical about The Smiley Book of Colors, most of all whether Daniel would appreciate it. Surely 2 and 1/2 is too young, I thought, to comprehend something as abstract as faces in inanimate objects. Luckily I took a chance with it anyway, because Daniel absolutely adores The Smiley Book of Colors. He seemed to be not entirely sure what he was looking at when he first flipped through the book, but once we showed him one smile, he could see them in each and every picture and found each of them absolutely delightful. He can also tell us what most of the objects actually are as well. In addition, the book is enhanced for him by the color groupings; not only does he want to go through and find all the faces, he goes through and announces the color on each page as well.
The Smiley Book of Colors will both delight children, and teach them to look for the creative and unexpected in the world all around them.
Buy this book from:
Powells | Indiebound*
Source: Publisher
* These links are all affiliate links. If you buy your book here I'll make a very small amount of money that goes towards hosting, giveaways, etc.
Copyright protected by Digiprove © 2012