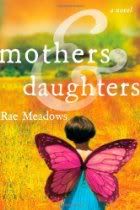 Mothers & Daughters by Rae Meadows
Published by Henry Holt & Co, an imprint of Macmillan

Motherhood has changed Samantha. Her life is consumed by her baby daughter and, quite frankly, Samantha likes it like that. Part of it is her fear that motherhood has so changed her that she will no longer be able to create her art, but she also just can't bear to leave her daughter. Complicating this dance of early motherhood is Samantha's grief over the death of her mother Iris, just a short time before the birth of her daughter. When Samantha's brother sends her a box of Iris's things, she begins to learn truths about her family that have been long hidden.
Mothers and Daughters is told from the perspective of Samantha, Iris, and Iris's mother Violet. I found Violet's story to be both the most compelling and the most disconnected from the rest of the book – which sounds like a negative comment, but isn't. Violet grew up in New York with a spoiled, dissolute mother who could not – or would not – care for her properly, and who ended up putting her on an orphan train. (Side note: I was more than a little shocked to learn about the orphan trains. After reading Mothers and Daughters I did more research on them and understand the sentiments behind them a bit better, but I was furious for large portions of Violet's story). It makes perfect sense, really, that Violet's story seems so disconnected from those of Iris and Samantha, because the life she lived as Iris's mother in the Midwest was worlds apart from the one she lived growing up in New York City in the early 20th century.
I loved Meadows's writing, and the way her story was constructed, but perhaps the most stunning thing about Mothers & Daughters is just how quickly I connected with the characters. The narration was done on a rotating basis, so the first three chapters contained one chapter in each woman's voice, and each of them gave me something in their first chapter that made their stories compelling. Often when the points of view switch in a novel like this, a reader will have a favorite character to narrate, but I can honestly say that I did not. I could connect with each woman, even Iris whose story took place in such a different stage of life than my own. Not only was each woman compelling in her own right, their interactions and influences upon one another were fascinating and meaningful, without ever feeling contrived.
Just one teeny tiny thing: I really, really wanted Samantha to have a flower name, with her mother and grandmother named Iris and Violet. Either that, or I wanted for one of them to not have a flower name. I know, I have a weird thing about names, which is particularly odd since if a character's name doesn't bother me for some reason, I likely won't even notice what it is. I know which character is which because of their characterization and am often hard pressed to remember names even upon looking up from the book for a moment.
Overall, I adored Mothers & Daughters. Highly recommended!
Buy this book from:
Powells | Indiebound*
Source: Author's agent.
* These links are all affiliate links. If you buy your book here I'll make a very small amount of money that goes towards hosting, giveaways, etc.
Copyright protected by Digiprove © 2011