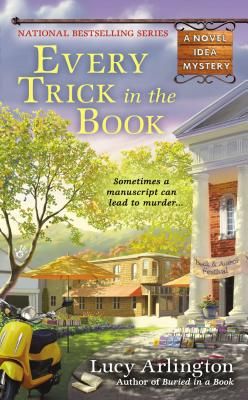 Every Trick in the Book by Lucy Arlington
Published by Berkley, an imprint of Penguin

Lila is really happy with her new life. She's moving into a cute new cottage in Inspiration Valley, North Carolina, and being a literary agent seems as if it is her perfect job. Even the men in her life are falling into line. Sure, she hasn't gotten much time yet with her handsome police officer beau, but there is definite potential there, and her son's time at the commune up the road seems to be maturing him – which is a relief after how concerned Lila was about him deferring college. Everything seems pretty close to perfect, until the Inspiration Valley Book and Author Festival. First Lila has a run-in with a strange and menacing man, then she finds the body of a dead editor who could be her twin. Now Lila needs to figure out what happened and why, or it could be The End for her.
Every Trick in the Book is the second in the A Novel Idea Mystery series, but I did not feel that I was missing anything significant by not reading the first book, although it seemed as if Lila's personal life is starting to pick up and it will become progressively more difficult to pick up the series without reading the earlier books as it goes on, so it is a good thing I'm getting in now. Honestly, though, I think the best cozies are the ones where it does matter, at least a little bit, what order you read them in. Like Julie Hyzy's White House Chef series, where the main character and her relationships with those around her grow and change over time. Every Trick in the Book is very much in that vein, with a very engaging main character and a fun style.
As fun as it is, there is a bit here that seems anachronistic. One is the fact that Lila's agency still accepts queries by mail, which is not terribly common any longer – although they do seem to communicate mostly by email, which mitigates that a bit. The other is a reference made to the Twilight series, saying that Bella would 'become a vampire' by the time something happened. Considering the last Twilight book (in which, spoiler alert, Bella does become a vampire) came out about 5 years ago, and even the last movie came out about 6 months before the book was released, this seems an odd reference. However, I noticed both of these issues towards the beginning of the book and there either were no more after that, or I was having too much fun with the story to notice and care because this is a very engrossing cozy.
This is a very enjoyable read and, seemingly, a very promising series. Recommended.
Buy this book from:
Powells | Indiebound*
Source: Publisher.
* These links are all affiliate links. If you buy your book here I'll make a very small amount of money that goes towards hosting, giveaways, etc.
Copyright protected by Digiprove © 2013