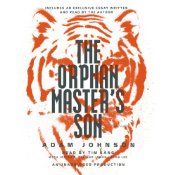 The Orphan Master's Son by Adam Johnson, narrated by Tim Kang, Josiah D. Lee, and James Kyson Lee
Published in audio by Random House Audio, published in print by Random House

Synopsis:
From the publisher:
An epic novel and a thrilling literary discovery, The Orphan Master's Son follows a young man's journey through the icy waters, dark tunnels, and eerie spy chambers of the world's most mysterious dictatorship, North Korea.

Pak Jun Do is the haunted son of a lost mother—a singer "stolen" to Pyongyang—and an influential father who runs Long Tomorrows, a work camp for orphans. There the boy is given his first taste of power, picking which orphans eat first and which will be lent out for manual labor. Recognized for his loyalty and keen instincts, Jun Do comes to the attention of superiors in the state, rises in the ranks, and starts on a road from which there will be no return.

Considering himself "a humble citizen of the greatest nation in the world," Jun Do becomes a professional kidnapper who must navigate the shifting rules, arbitrary violence, and baffling demands of his Korean overlords in order to stay alive. Driven to the absolute limit of what any human being could endure, he boldly takes on the treacherous role of rival to Kim Jong Il in an attempt to save the woman he loves, Sun Moon, a legendary actress "so pure, she didn't know what starving people looked like."
Thoughts on the story:
Jun Do's story is, at times, a bit of a tangled web, particularly as part of The Orphan Master's Son is narrated by a voice over the loudspeaker that broadcasts to all North Korean citizens, and part comes from the point of view of a prison interrogator. It is not that Jun Do is an unreliable narrator precisely, it is that the nature of narrative in North Korea is, by definition, unreliable. This becomes increasingly evident during Jun Do's time with Sun Moon, as identity and reality shift based on what people allow or force themselves to believe. Jun Do knows that power of belief and blind obedience better than most, having been an orphan who was not really an orphan, and thus he is one of the privileged few who is able to make this quirk of North Korea society work for him – at least for a time.
It is this contemplation on reality in North Korea that makes The Orphan Master's Son so very brilliant. At the same time, however, Johnson has also created a story that keeps the reader interested, even before this theme becomes so strongly apparent. From Jun Do's time as a state-mandated kidnapper of Japanese citizens, to his time manning a radio on a fishing vessel, his inclusion on a diplomatic trip to Texas, and then finally his relationship with Sun Moon, every aspect of Jun Do's life offers the reader tantalizing and often horrifying glimpses into life in North Korea.
Thoughts on the audio production:
The best part of this audio production is that it uses multiple narrators to fully differentiate between the multiple points of view in Johnson's story. Kang is the primary narrator, telling the majority of the story from Jun Do's point of view. Lee and Lee voice the loudspeaker and the interrogator, giving additional definition and clarity to the story. I must say that none of the narrators completely wowed me, but all were solid narrators and they told the story adequately and in an interesting manner.
Overall:
I might lean slightly towards recommending this in print over audio, but the audiobook also works perfectly well. Either way, this is definitely a book to pick up.
Buy this book from:
Powells: Print*
Indiebound: Print*
Audible.com

I'm launching a brand-new meme every Friday! I encourage you to review any audiobooks you review on Fridays and include the link here. If you have reviewed an audiobook earlier in the week, please feel free to link that review as well. Thanks to Pam for creating the button.
Source: Library.
* These links are all affiliate links. If you buy your book here I'll make a very small amount of money that goes towards hosting, giveaways, etc.
Copyright protected by Digiprove © 2012