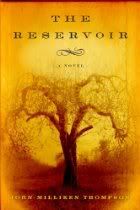 The Reservoir by John Milliken Thompson
Published by Other Press

When a young, pregnant woman, Lillie, is found floating dead in Richmond's reservoir, the cause of death is originally thought to be suicide, but soon the evidence piles up so that murder is suspected. Before too long, the police pick up Lillie's cousin Tommie, with whom she had been having a fling. As it becomes more and more obvious that Tommie was with Lillie the night she died, he is put on trial for her murder, his own life hanging in the balance.
The Reservoir has just a bit of a slow start. I read about 35 pages and put it down for a week, without ever particularly needing to pick it up again. Once I finally picked it up again, however, I finished the last 300 pages in just two sittings in under 24 hours. Thompson has brought 19th century Richmond to life.
The based-on-a-true-story events of The Reservoir are viewed at somewhat of a remove, with distant language, but it worked in this case. Tommie is removed from his own life, awaiting the outcome of his trial. The narrative distance also contributes to the questions about whether or not Tommie is a reliable narrator in his tales of what happened to Lille, of what really happened.
After a slow start, The Resvoir is a truly engrossing, beautifully-written literary historical mystery.
We will be discussing The Reservoir right here on Tuesday, July 26 as part of BOOK CLUB, all are welcome to attend.
Buy this book from:
Powells | Indiebound*
Source: Publisher for BOOK CLUB.
* These links are all affiliate links. If you buy your book here I'll make a very small amount of money that goes towards hosting, giveaways, etc.
Copyright protected by Digiprove © 2011