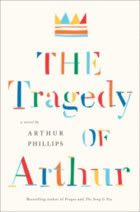 The Tragedy of Arthur by Arthur Phillips
Published by Random House

Arthur Phillips's father is a two-bit forger and con artist, but, still, when he claims to have discovered a lost Shakespeare play, Arthur believes him. At first.
That might be the shortest synopsis I've ever written, but The Tragedy of Arthur is a difficult book to summarize without giving too much. The story builds upon itself and circles back around in such a way that it is difficult to know how much is too much.
The first section is a memoir-ish introduction to the titular play. The tension between Arthur – who, by the way, has apparently a very similar history to the novelist Arthur Phillips, which may cause some readers to wonder how much is fact and how much fiction – and his father is masterfully done. The voice of a child terribly scarred by his parent seems dead on. The majority of what Arthur does is in response to his childhood and his father in one way or another, right down to his feelings towards Shakespeare, his father's favorite author:
I have never much liked Shakespeare. I find the plays more pleasant to read than watch, but I could do without him, up to and including this unstoppable and unfortunate book. I know that is not a very literary or learned thing to confess, but there it is. I wonder if there isn't a large and shy population of tasteful readers who secretly agree with me. -p. 1
Everything was put together so well, I found myself second guessing what I knew to be true about the book, conflating Arthur the character with Arthur the novelist. The alleged lost play was simply the icing on the cake, the thing that completed The Tragedy of Arthur and made it worthy of its ambition. I cannot wait to read more of Arthur Phillip's work.
Highly recommended.
For a more indepth discussion of the book and Phillips's inspiration for it, please check out my interview with him on my podcast, What's Old is New. For those who are so inclined, you can also listen to the original spoilery intro and Arthur's notes on the play.
Buy this book from:
Powells | Indiebound*
Source: Publisher.
* These links are all affiliate links. If you buy your book here I'll make a very small amount of money that goes towards hosting, giveaways, etc.