May started off really, really slowly as far as my reading went, but I sort of went full throttle at the end of the month and ended up having an amazing month. I finished 22 books including 5600 pages of print and 41 hours of audio. I'm still amazed I read that many books, particularly because the beginning of the month was like molasses, but I finished a book each day from the 13th to the 30th.
I will first be listing the books reviewed over the last month, and will include unreviewed books below, so you can see what will be coming up!
What I Reviewed:
Audiobooks
The Anatomy of Ghosts by Andrew Taylor, narrated by John Telfer
Fiction
Married with Zombies by Jesse Petersen
How to be an American Housewife by Margaret Dilloway
The Tragedy of Arthur by Arthur Phillips
The Arrivals by Meg Mitchell Moore
If Sons, Then Heirs by Lorene Cary

Mystery
Murder Under Cover by Kate Carlisle
Grace Under Pressure by Julie Hyzy
Towards Zero by Agatha Christie

Historical Fiction
March by Geraldine Brooks
The Last Time I Saw Paris by Lynn Sheene
Doc by Mary Doria Russell
Nonfiction
How Shakespeare Changed Everything by Stephen March
The Convert by Deborah Baker
Wicked Bugs by Amy Stewart
Saturday Story Spotlight
Have You Seen My Cat? by Eric Carle
Blue Hat, Green Hat by Sandra Boynton
Tumford the Terrible by Nancy Tillman
Other Posts:
A Rose by Any Other Name
Oh, D.E.A.R. – Upcoming Books
Getting Excited About Audiobook Week – Audies Winners
Audiobook Week 2011 Info and Discussion Topics
Cool Down with Agatha Christie – Standalone Readalong
High School Book Drive Wrap-up
Pick of the Month: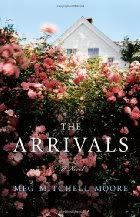 The Arrivals by Meg Mitchell Moore
I had trouble choosing just one this month, Doc by Maria Doria Russell and The Tragedy of Arthur by Arthur Phillips were incredibly strong contenders as well
Other Books Read, Watch for Reviews:
Audiobook
As the Earth Turns Silver by Alison Wong, narrated by Heather Bolton (for Audiofile, no review at Devourer of Books)
The Sweet Relief of Missing Chidlren by Sarah Braunstein, narrated by Xe Sands
Faith by Jennifer Haigh, narrated by Therese Plummer
Sweet Jiminy by Kristin Gore, by Hillary Huber
Bossypants by Tina Fey, narrated by Tina Fey

Fiction
Little Women Letters by Gabrielle Donnelly
The Secret Garden by Frances Hodgeson Burnett
The Girl in the Garden by Kamala Nair
Grace Interrupted by Julie Hyzy
The Art of Forgetting by Camille Noe Pagan
Eat Slay Love by Jesse Petersen
Girls in White Dresses by Jennifer Close

Note: Some of these books were provided to me for review.
Copyright protected by Digiprove © 2011