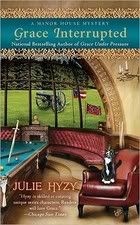 Grace Interrupted by Julie Hyzy
Published by Berkley, an imprint of Penguin

The first book in the Manor House Mystery series, please see my review of the first book in the series, Grace Under Pressure.

Things are finally settling down for Grace Wheaton and Marshfield Manor after the death of the head curator. The quiet only lasts until two women are caught trespassing near a group of Civil War re-enactors on the premises, wishing to do harm to one of the men, Zachary Kincade. Surprisingly, though, when Zachary turns up dead, these women aren't the main suspects; Grace's potential beau Jack Embers, previously accused of killing Zachary's brother, is the one under suspicion.
Grace continues to be a compelling character. In Grace Interrupted she is dealing not only with another murder, but with accusations against the man she loves – okay, the man she has sort of a crush on and would like to finally get out on a date with.
As always, Hyzy does a great job crafting her mystery. Her murderer makes perfect sense and she does scatter clues, but the culprit is not so obvious that the reader isn't kept guessing.
Grace Interrupted is just as lovely and fun as I expect of Hyzy. Recommended.
Buy this book from:
Powells | Indiebound*
Source: Publisher.
* These links are all affiliate links. If you buy your book here I'll make a very small amount of money that goes towards hosting, giveaways, etc.
Copyright protected by Digiprove © 2011