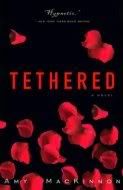 Tethered by Amy MacKinnon
Published by Broadway, an imprint of Random House

Three years ago, a young, unidentified girl was found sexually abused and dead, another body for Clara to prepare. Clara, who survived her own childhood only by the grace of a God she no longer believes in. The one place Clara was able to find solace as a child was in the funeral home where her mother's wake was held, although she still had to hold herself at a remove from those around her to function, touching only the dead. When a young girl named Trecie begins hanging around the funeral home Clara's first reaction is annoyance, which is quickly replaced by worry, when it becomes apparent that Trecie may be involved with the same people who murdered Precious Doe.
Tethered has some hallmarks of a mystery: the main character becomes involved to a certain degree with a law enforcement officer and tries to solve a crime before someone else gets hurt. What Amy MacKinnon has done with Tethered, though is so much more. She has created a beautiful literary and psychological novel with the interest value of an extremely compelling mystery. Clara's character is particularly interesting. Her own childhood abuse gives her a rich, complicated persona, which lends depth to the storyline. Equally deep and deliciously complicated is MacKinnon's writing.
I've often thought there's something reptilian about Mike's eyes. No, not the coldness, it's more about the layers. There's a certain ambiguous quality to them. Like an alligator before it slips underwater, hiding its intent beneath the transparent shield that covers the cornea, allowing the animal to see as it protects itself from harm. It's the same with Mike.
Tethered is a beautiful, occasionally painful novel and an absolutely compelling read. Highly recommended.
Buy this book from:
Powells | Indiebound*
Source: Library.
* These links are all affiliate links. If you buy your book here I'll make a very small amount of money that goes towards hosting, giveaways, etc.
Copyright protected by Digiprove © 2011