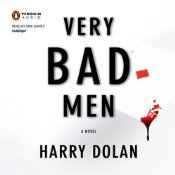 Very Bad Men by Harry Dolan, narrated by Erik Davies
Published in audio by Penguin Audio, published in print by Amy Einhorn Books, both imprints of Penguin
This is the second book in the David Loogan series. I previously reviewed the first book, Bad Things Happen.

Synopsis:
Things have mostly settled down for David Loogan; Grey Streets is chugging along fairly well, and his relationship with Elizabeth Waishkey is quite good, with David all but living with Elizabeth and her daughter. Until one day David finds a manuscript outside his door detailing the murder of multiple individuals who have recently died and the threat of another man who is next. All of the victims have one thing in common, they were the perpetrators of the Great Lakes Bank Robbery years earlier. Now Loogan must discover who is killing them, and why.
Thoughts on the story:
I just love Harry Dolan's David Loogan series – even if I do have a tendency to mix up the author and character name for some bizarre reason. These mysteries are super smart with a literary bent to both the writing and the plot. Loogan's job as the editor of a small literary magazine devoted to mysteries is a fantastic hook that Dolan, who is an editor himself, plays perfectly. Very Bad Men succeeds because it manages to provide both a feeling of continuity with Bad Things Happen and a plot that is fresh and not merely a rehashing of the first book.
The plot of Very Bad Men kept me guessing to figure out what exactly was going on and who was behind it, while at the same time coming together in a very plausible way.
Thoughts on the audio production:
Erik Davies is so exactly David Loogan that it is almost eerie. He doesn't excel at narrating women, though, and they took a more prominent role in Very Bad Men than they did in Bad Things Happen, so that detracted a bit from the audio experience. For a more details on the audio, please see my review in Audiofile Magazine.
Overall:
Another smart, engaging thriller from Harry Dolan, complemented by more great narration from Erik Davies. Recommended.
Buy this book from:
Powells: Audio/Print*
Indiebound: Audio/Print*
I'm launching a brand-new meme every Friday! I encourage you to review any audiobooks you review on Fridays and include the link here. If you have reviewed an audiobook earlier in the week, please feel free to link that review as well. Thanks to Pam for creating the button.
Source: .
* These links are all affiliate links. If you buy your book here I'll make a very small amount of money that goes towards hosting, giveaways, etc.
Copyright protected by Digiprove © 2011