I is an Other by James Geary
Published by Harper, an imprint of Harper Collins

Generally I prefer to write my own synopses of the books I review here. I think that reading a different description than the one found on an online bookseller's site, or on the jacket flap provides my readers with an additional window into the book, and I think the way someone summarizes a book can tell you a lot about said book. Some books, however, are somewhat beyond my powers of synopsis. That being the case, I will have to share with you part of the publisher's description of I is an Other.
From President Obama's political rhetoric to the housing bubble burst. James Geary proves in this fascinating and entertaining book that every aspect of our experience is molded by metaphor.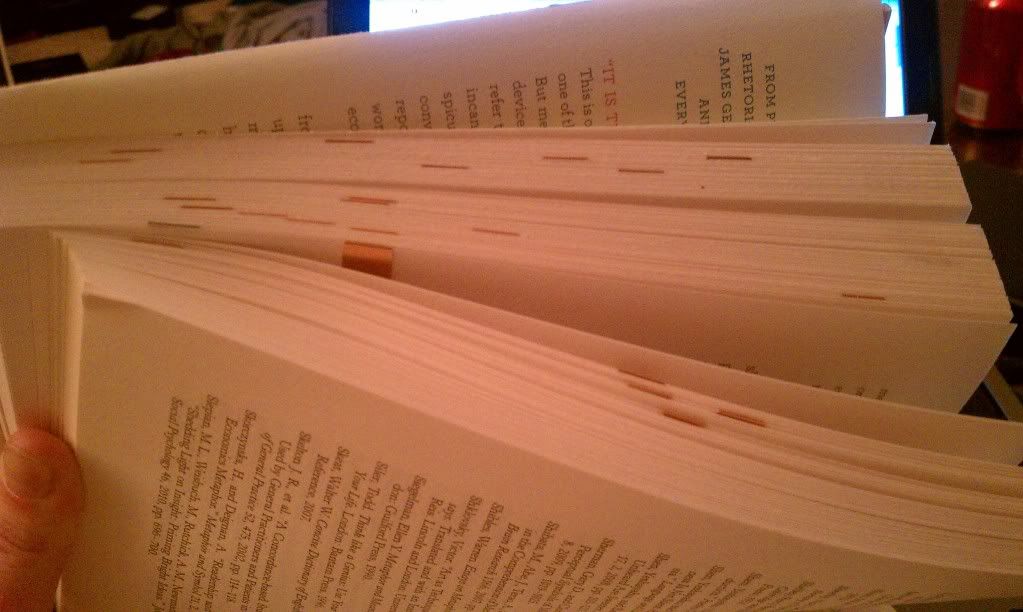 When they say that every aspect of our experience is molded by metaphor they aren't kidding. Geary covers everything from politics, to brain function and autism spectrum disorder, to the power of metaphor on our psyche. In the best of all worlds, I is an Other would be treated to an extensive scholarly discussion and review. There is a lot of meat there. I am a person who does not tend to take notes or mark passages when I read, but I marked passages in I is an Other like a crazy person. Unfortunately, I am still trying to wrap my head around the entirety of the information presented.
The scope of I is an Other is astounding, but Geary is somehow able to bring it together cohesively in slightly over 200 pages. Each chapter is predominantly self-contained on the chosen subject, although they are best written in sequence, as some prior knowledge is built upon from chapter to chapter. In addition to making a huge topic approachable, Geary also does an admirable job of making his content understandable. He goes into a degree of depth not only about metaphor, but about his different subjects as well, and the same person who is interested in metaphor may not be someone who would knowingly pick up a book on the market crash, or on brain science.
Still, Geary manages to put everything in comprehensible packages – primarily through metaphor, thereby proving the basic premise of the book in the first place. A degree of well-rounded intelligence and breadth of knowledge is assumed, however, as is a willingness to put on your thinking cap because, while Geary wants to make his subject readable, he is not particularly interested in dumbing it down. It isn't required that you know what an active metaphor is, but you must at least think about it or look it up.
The idea that metaphor is so much more than language was positively revelatory for me, and I think this is a book that could fascinate many who are willing to put in the effort and not be intimidated by the initially cryptic title and cover. Recommended.
Buy this book from:
Powells | Indiebound | Amazon*
Source: Publisher.
* These links are all affiliate links. If you buy your book here I'll make a very small amount of money that goes towards hosting, giveaways, etc.
Copyright protected by Digiprove © 2011