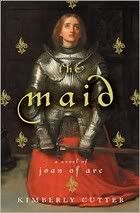 The Maid by Kimberly Cutter
Published by Houghton Mifflin Harcourt

Joan of Arc is one of the best known of the Catholic saints, and perhaps the most famous of medieval women. As a young woman, she heard what she believed was the voice of God, calling out to her, telling her to lead an army against the English and restore the Dauphin Charles to his rightful place as the King of France. In The Maid, Kimberly Cutter addresses not only who Joan – here called Jehanne – was, but what it might have been like for her to have been the figurehead of the French army, so convinced that she was the only one who could drive out the English conquerors.
Cutter walks a fine line with The Maid, between attempting to bring Jehanne to life and also attempting to stay as true as possible to the verifiable events of her life. This means that, at times, The Maid reads a bit more like historical nonfiction than historical fiction, but this is by no means a mark against it. Although the reader is not always privy to Jehanne's deepest emotions, Cutter excels at showing Jehanne's state of mind, particularly her increasing volatility as her time as a leader of battle dragged on and she knew the end was approaching, such as this scene when her order forbidding prostitutes in camp is disobeyed:
Jehanne smiled, then raised her sword over her head and hit the woman with the flat of it so hard that the sword broke in half. The woman fell to the ground. Everyone around the campfire stood frozen, eyes wide as coins. Jehanne stared back at them. "I said no whores in camp." -p. 235
Jehanne is a character who continually struggles with her believed calling, and with how she might even begin to complete the tasks set to her. Her emotional distress and quick temper may raise the question for many readers whether she was truly hearing the voice of God or whether she was mentally ill, but Cutter will not easily let us dismiss her as merely schizophrenic, as many have, dwelling as well on her verified fulfilled prophecies, such as her the outcomes of battles she did not witness and her own wounding by an arrow, as well as her miraculous survival of a seventy-some foot fall without so much as a sprained ankle.
This continual questioning and the lack of easy answers are perhaps  the best thing about The Maid, but even without them this is a compelling story of a girl who takes on a responsibility never dreamed of by the other woman of her age and steadfastly performs what she sees as her duty, despite her own fears and misgivings. Highly recommended.
Buy this book from:
Powells | Indiebound*
Source: Publisher, via Netgalley.
* These links are all affiliate links. If you buy your book here I'll make a very small amount of money that goes towards hosting, giveaways, etc.
Copyright protected by Digiprove © 2011