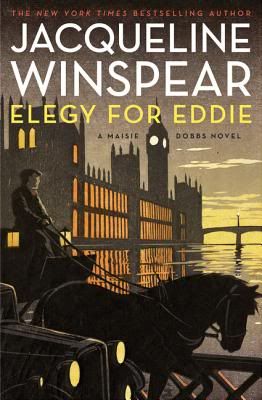 Elegy for Eddie by Jacqueline Winspear
Published by Harper Books, an imprint of HarperCollins

My reviews of the first eight books in the series: Maisie Dobbs, Birds of a Feather, Pardonable Lies, Messenger of Truth, An Incomplete Revenge, Among the Mad, The Mapping of Love and Death, A Lesson in Secrets.

A simple man with an almost miraculous ability to calm horses, Eddie was beloved by nearly everyone in the community where Maisie grew up. When he dies in a suspicious accident in a paper factory, many of the men who knew him are certain that his death was no accident. This is a case that both hits Maisie close to home – much closer than she's comfortable with, in many ways – and pushes her far beyond her comfort level. At the same time as she is being challenged professionally, Maisie is struggling personally. It becomes increasingly clear that the money left to her by Maurice, and particularly the way she is using is, is beginning to get in the way of her relationships with friends and employees. In addition, Maisie's romance with James Compton is increasingly rocky, as their vastly different backgrounds and future plans encroach upon their love.
It is amazing to say for the 9th book in a series, but Jacqueline Winspear's Maisie Dobbs books just keep getting better. Maisie has truly come into her own, both as an investigator and as a well-developed character. Her personal struggles, both with her friends and employees and with James are incredibly real, and very much based in the person she is, and the context in which she grew up. Winspear does remind us briefly of Maisie's first love, Simon, raising the question of whether Maisie's inability to fully connect with James, as in her previous relationship with Andrew, is really a function of them wanting different things, or if part of it has to do with the psychological wounds she still carries from her time in the war and particularly Simon's wounds.
Equally engaging, though, is the case Maisie is working in Elegy for Eddie. What begins as an investigation into the death of a sweet but simple man ends up pulling Maisie in directions she didn't expect. This case goes much higher up in British society and politics than one would guess from first glance. It is also the most morally ambiguous case Maisie has taken on yet, at multiple levels are people whose attempts to do what they believe is right damage the life of those around them.
The Maisie Dobbs novels, including Elegy for Eddie are superb examples of historical fiction firmly grounded in the time period in which they are set, but they are also intriguing mysteries and thoughtful, character-driven novels. I'm not really sure what more a reader could ask for. Very highly recommended.
Buy this book from:
Powells | Indiebound*
I read this book as part of a TLC Book Tour.  Check out some of the other tour hosts for more reviews.  Links go to the host's site, not to their specific review.
Monday, March 26th: Whimpulsive
Tuesday, March 27th: bookchickdi
Wednesday, March 28th: Devourer of Books
Wednesday, March 28th: cakes, tea and dreams
Thursday, March 29th: Iwriteinbooks's blog
Friday, March 30th: Wordsmithonia
This tour also included reviews of the earlier books in the series. The full list can be found at TLC Book Tours.
* These links are all affiliate links. If you buy your book here I'll make a very small amount of money that goes towards hosting, giveaways, etc.
Copyright protected by Digiprove © 2012