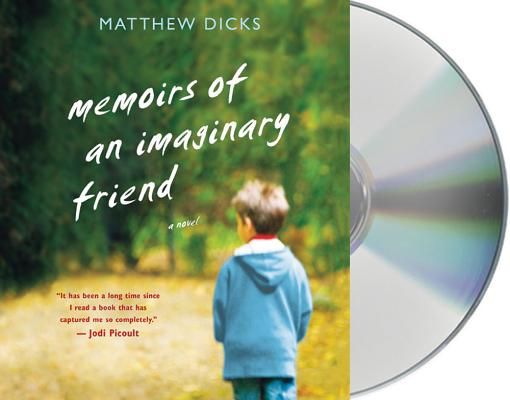 Memoirs of an Imaginary Friend by Matthew Dicks, narrated by Matthew Brown
Published in audio by Macmillan Audio, published in print by St. Martin's Press, both imprints of Macmilllan

Synopsis:
Budo doesn't know any other imaginary friends who are as old as he is. He's been alive more than five years, when most imaginary friends don't last even a single year, perhaps partly because his imaginer Max has Asperger's Syndrome. It seems inevitable that one day Max will stop believing in Budo and then Budo will cease to exist, but until then Budo will continue to help and protect Max.
Or so he thinks.
It turns out, that there is really only so much Budo can do to help Max, particularly when Max doesn't want to listen to him. Budo has always been somewhat leery of Max's aide, Mrs. Patterson, but he has no idea just how dangerous she really is, until she kidnaps Max. Only Budo knows what happened to Max, and only Budo can save him. There's just one little problem, though: nobody can hear or see Budo except Max and other imaginary friends.
Thoughts on the story:
I know some people will be hesitant reading a story told from the point-of-view of an imaginary friend, but Budo is an incredibly inventive and engaging main character. He's particularly interesting for the way he is stuck between childhood and adulthood. Max imagined him looking incredibly human and having more knowledge than Max himself, but there are a number of situations where Max's own literalism and lack of context clearly impede Budo's understanding of situations. This dichotomy works well as Budo is not overly precocious which can grate on some readers. but his occasional misunderstandings serve to remind the reader or listener of the pair's vulnerabilities.
Thoughts on the audio production:
Matthew Brown does a fabulous job narrating Memoirs of an Imaginary Friend. Budo is somewhat ageless, so the fact that he does not sound like a child is not an issue. What he did bring believably to the story was an ability to be utterly convincing when Budo is experiencing wonder, sorrow, or confusion, each of which appear in the novel with some regularity. Brown's characterizations are spot-on and, in my opinion, make the novel even stronger – perhaps particularly for readers who are somewhat skeptical of the premise.
Overall:
Memoirs of an Imaginary Friend is unlike anything I have read before and I absolutely loved it. So much so, in fact, that I listened to the entire 10 hour audiobook over the course of a single day because I just could not bear to put it down. Highly recommended.
A note: although the main character is an imaginary friend, Memoirs of an Imaginary Friend is absolutely geared towards an adult rather than child audience. There is some strong language and some scenes and concepts would likely be scary or confusing for young children.
Buy this book from:
Powells: Audio/Print*
Indiebound: Audio/Print*
I'm launching a brand-new meme every Friday! I encourage you to review any audiobooks you review on Fridays and include the link here. If you have reviewed an audiobook earlier in the week, please feel free to link that review as well. Thanks to Pam for creating the button.
Source: Publisher.
* These links are all affiliate links. If you buy your book here I'll make a very small amount of money that goes towards hosting, giveaways, etc.
Copyright protected by Digiprove © 2012