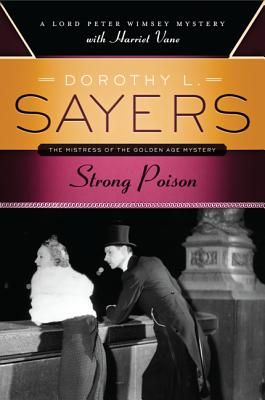 Strong Poison by Dorothy L. Sayers
Published by Bourbon Street Books, an imprint of HarperCollins
From the publisher:
Mystery novelist Harriet Vane knew all about poisons, and when her fiancE died in the manner prescribed in one of her books, a jury of her peers had a hangman's noose in mind. But Lord Peter Wimsey was determined to prove her innocent–as determined as he was to make her his wife.
For years I have been hearing praise of Dorothy L. Sayers's Lord Peter Wimsey books from book bloggers whose taste I trust, and the four Harriet Vane books seem to be particularly well regarded. Personally, though, I just totally failed to connect with and care about Lord Peter, he simply didn't appeal to me at all. Perhaps because Strong Poison comes in several books into the overarching Lord Peter Wimsey series, but there didn't seem to be much character development and I more or less lost interest in him.
I do suspect that I might have enjoyed Strong Poison were Harriet Vane actually in it more. Because she is on trial for murder and has only just been introduced to Lord Peter, Harriet only directly appears in Strong Poison a few times, the story consists mostly of Lord Peter trying to prove her innocence without her. I'm going to give this series one more try with Have His Carcase to see if my hunch about enjoying Harriet more than Lord Peter is correct, but that will be do or die for me.
Have you read any of Dorothy L. Sayers's mysteries? What did you think?
Buy this book from:
Powells | Indiebound*
Source: Publisher.
* These links are all affiliate links. If you buy your book here I'll make a very small amount of money that goes towards hosting, giveaways, etc.
Copyright protected by Digiprove © 2012