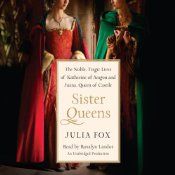 Sister Queens: The Noble, Tragic Lives of Katherine of Aragon and Juana, Queen of Castile by Julia Fox, narrated by Rosalyn Landor
Published in audio by Random House Audio, published in print by Ballantine Books, both imprints of Random House

Synopsis:
From the publisher:
The history books have cast Katherine of Aragon, the first queen of King Henry VIII of England, as the ultimate symbol of the Betrayed Woman, cruelly tossed aside in favor of her husband's seductive mistress, Anne Boleyn. Katherine's sister, Juana of Castile, wife of Philip of Burgundy and mother of the Holy Roman Emperor Charles V, is portrayed as "Juana the Mad," whose erratic behavior included keeping her beloved late husband's coffin beside her for years. But historian Julia Fox, whose previous work painted an unprecedented portrait of Jane Boleyn, Anne's sister, offers deeper insight in this first dual biography of Katherine and Juana, the daughters of Spain's Ferdinand and Isabella, whose family ties remained strong despite their separation. Looking through the lens of their Spanish origins, Fox reveals these queens as flesh-and-blood women—equipped with character, intelligence, and conviction—who are worthy historical figures in their own right.
Thoughts on the story:
Fox recounts the stories of Katherine and Juana in a clear and straightforward manner, making Sister Queens both fascinating and easy to understand. One thing I particularly appreciated was her nuanced view of Katherine of Aragon. Katherine is generally portrayed as a saint in historical fiction, a woman completely beyond reproach who would never let a falsehood cross her lips for fear of offending her God. Fox disputes this stereotype, while still acknowledging the importance of religion in Katherine's life, and the religious implications of her fight to save her marriage and her adopted country from Henry's break with the church and Anne Boleyn's Protestant leanings. Juana's story is also put forth in an interesting manner, but as less that Fox recounted shocked or surprised me I was slightly less captivated by it. Fox is not afraid to admit where the historical record is lacking enough that nothing can be said with certainty – was Juana mad? did Katherine and Arthur consummate their marriage? – and reevaluates such questions throughout the narrative as events continue to unfold, encouraging readers to consider the entirety of the evidence, rather than simply the propaganda put forth throughout the centuries. Fox keeps the sisters' stories moving forward, while still engaging in a good amount of historical depth, it is really very well done.
Thoughts on the audio production:
Rosalyn Landor fit this history very well, with her elegant and poised narration. For more, please see my AudioFile Magazine review.
Overall:
A fascinating history, and a well-produced audiobook. Either way you win, I think.
Buy this book from:
Powells: Print*
Indiebound: Print*
Audible

I'm launching a brand-new meme every Friday! I encourage you to review any audiobooks you review on Fridays and include the link here. If you have reviewed an audiobook earlier in the week, please feel free to link that review as well. Thanks to Pam for creating the button.
Source: AudioFile Magazine.
* These links are all affiliate links. If you buy your book here I'll make a very small amount of money that goes towards hosting, giveaways, etc.
Copyright protected by Digiprove © 2012