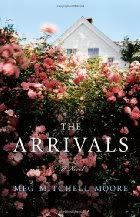 The Arrivals by Meg Mitchell Moore
Published by Reagan Arthur Books, an imprint of Hachette

Ginny and William Owens have been enjoying their quiet house, but they are thrilled when their daughter Lillian brings her young children for a visit. Even so, things don't seem quite right, with no sign of Lillian's husband Tom who, Lillian is hiding from everyone, recently cheated on her. Not that there is much chance to dwell, when their son Stephen and his pregnant wife Jane show up unexpectedly and are forced to stay when Jane is ordered to bed rest. As if the house isn't crowded enough with five adults and two children, the Owens's youngest child Rachel shows up, her life similarly in tatters.
The Arrivals could have easily been one long pity party, in some ways it was one tragedy piled on top of another. Money problems, infidelity, high-risk pregnancies, all happening to a single family in a single summer. And yet, the love of the family and the way they interacted, together with Meg Mitchell Moore's gorgeous prose combine to create a cohesive and moving novel.
Certain passages of The Arrivals are just so beautiful and true that they beg to be read, reread, shared:
Thinking about it, her throat caught. She felt embarrassed for herself the way you feel embarrassed for a child who falls down while she's running toward a playground. So much optimism, dashed. -p. 25
What is particularly admirable about The Arrivals is how so many periods of life were represented so realistically: there is the young family, the expectant family, the empty nesters, the young person unsure where to turn. The characters have some poignant things to say about the bittersweet nature of of parenthood as well:
"But parents these days, it is different, I know it is. There's a certain level of…dissatisfaction that wasn't there when I was first a mother. Nobody worried about living up to some absurd ideal. There was no idea. But no, I don't know. It just seems like you're all laboring under this belief that you can have it all. I know that sounds like a cliche, but really that's what it is." -p. 159
After she hung up, Ginny told Lillian that it took every ounce of whatever she had – willpower, fortitude – not to disobey him. She could not stop thinking, she told Lillian, of how he looked on his first day of first grade, waiting at the bus stop with his back curving under his navy blue backpack and his eyes big and scared beneath his baseball cap. Only twice in all of Stephen's life, said Ginny, had she felt such a need to protect him – that day, and today. -p. 287
The Arrivals is beautifully written, a must read for people in all stages of life, for anyone to whom family is important. Highly recommended.
Buy this book from:
Powells | Indiebound*
Source: Author's agent.
* These links are all affiliate links. If you buy your book here I'll make a very small amount of money that goes towards hosting, giveaways, etc.
Copyright protected by Digiprove © 2011