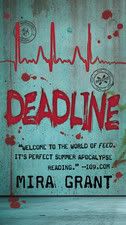 Deadline by Mira Grant
Published by Orbit Books, an imprint of Hachette
This is the second book in the Newsflesh series. This review will contain spoilers for the first book in the series, Feed.

Since the death of his sister George (Georgia), blogger Shaun Mason doesn't have much to live for anymore. At this point, the only thing that his keeping him alive at all – and even then, only marginally – is the prospect of revenge, exposing whomever it was who ordered George's death. The man who was her most immediate cause of death is no more, but Shaun knows there is a conspiracy that set everything up, certainly Tate could not have done everything on its own. This conspiracy seems to reach into the highest echelons of national and international power, and likely even into the CDC – the organization tasked with protecting Americans from the zombie-forming Kellis-Amberly virus, among other things.
Left nearly a metaphorical zombie himself after George's death – a very dangerous condition, mind you, in the midst of literal zombies – Shaun gets a a jumpstart on life again when a CDC researcher who helped him and George in the past shows up on the doorstep of the After the End Times blog headquarters. Of course, this reanimation almost ends when a massive outbreak of zombies follows close on her heels. With the help of this researcher, herself fearing for her life due to her Kellis-Amberly research, Shaun realizes he might finally have enough information to figure out what happened to George and avenge her death.
It would not be inaccurate to say that Deadline is, more than anything else, a bridge between the first book in the Newsflesh series, Feed, and the third book, Blackout, which will be out in 2012. There are a great number of revelations both about Shaun and Georgia's early life and their close relationship, and about the nature of Kellis-Amberly and the reality of the epidemic. Certainly things happen – the After the End Times news team does a great deal of traveling and hunting down leads to confirm the truth that is beginning to be unveiled. In addition, there is continued character development, mostly of Shaun, who becomes a much more strongly drawn character than he was in Feed. But primarily, Deadline is setting the scene for Blackout, complete with the traditional mid-series OMG moments.
What is really impressive about Deadline, is that it never feels like filler while you are reading it. All of the hard work that Grant did with world building in Feed helps Deadline feel fully realized. Interestingly, there were not nearly as many run-ins with zombies in Deadline, but this choice made sense for the story that is being told. As in Feed, the zombies are not the point, but more a part of the setting, telling a story of news, blogs, politics, and the culture of fear. It is this that makes the Newsflesh series so successful for me. Grant is using her zombie setting to tell us all a story about ourselves.
Highly Recommended. (Also: I can't believe I have to wait an entire year to read the third book. This is worse than after I read Catching Fire.)
Buy this book from:
Powells | Indiebound*
Source: personal copy.
* These links are all affiliate links. If you buy your book here I'll make a very small amount of money that goes towards hosting, giveaways, etc.
Copyright protected by Digiprove © 2011