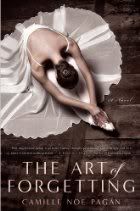 The Art of Forgetting by Camille Noe Pagan
Published by Dutton, an imprint of Penguin

For years, Marissa has been trailing her best friend Julia around. When she was new to school, it was Julia who befriended her, who rescued her from the realm of friendless new girl. Julia may have been bossy, at best, but she was Marissa's friend. Until one day, when Julia is running late to meet Marissa for dinner and she is hit by a car. Julia's physical injuries are relatively minor, but her brain injuries are not. She hasn't forgotten entirely who she is, but her behavior is somewhat erratic and she does not always recognize her friends and family.
"Oh, I know who you are," she says haughtily, instantly reminding me of my grandfather after he developed Alzheimer's. The comparison sends a chill straight down spine. -p. 19*
Throwing the reader immediately into the drama can be a risky proposition for a novel; there is always the possibility that even the most heart-wrenching event will leave the reader feeling cold, wondering why she should care about anything that happens to these characters. Debut novelist Camile Noe Pagan made it work, though. The Art of Forgetting opens in the first few pages with Julia's tragic accident and it packs all the emotional impact one could hope for.
I very much enjoyed The Art of Forgetting, although I did have a couple of minor issues. First and foremost, I hated Marissa and Julia's friendship. I was hoping all along that Julia's accident would bring Marissa to the realization that they had never really been friends. Julia was very much a mean girl, at times bordering on abusive. Marissa's personal growth arc throughout the novel is fantastic, but at times I wished it went just little further so that she could disassociate herself more completely with her friend. In addition, some of the dialogue was every so slightly stilted. Still, most of the writing and characterization was so good that even with the minor complaints I very much enjoyed The Art of Forgetting.
Recommended.
*Page numbers based on the egalley
Buy this book from:
Powells | Indiebound*
Source: The Art of Forgetting.
* These links are all affiliate links. If you buy your book here I'll make a very small amount of money that goes towards hosting, giveaways, etc.
Copyright protected by Digiprove © 2011