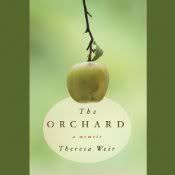 The Orchard by Theresa Weir, narrated by Ellen Archer
Published in audio by Hachette Audio, published in print by TK
Synopsis:
Theresa Weir had a tough life as a child, and things didn't really become any easier when she married Adrian Curtis and joined him on his family's apple farm. Derided as an outsider – particularly by Adrian's mother – Theresa must struggle to find her place in this world, even as she has significant reservations about the use of pesticides.
Thoughts on the story:
The Orchard had a bit of a slow start, mostly because of the slightly odd timeline. The book is nearly half over before Adrian and Theresa wed, even though they know each other for only a few months before marrying (this portion includes a lot of flashbacks to Theresa's childhood, which are edifying, but perhaps not enough to justify drawing this part out so much). The second half of the book comprises the entire rest of Theresa and Adrian's life together, which gives some events a rushed feel. Suddenly, the couple has two children, next thing you know, Theresa is writing a book, and then is a published author. Still, despite what is an initially puzzling timeline, Weir has created a story with power and heart. Both a very personal memoir, and an exploration of the place of pesticides in farming.
Thoughts on the audio production:
Ellen Archer did a wonderful job conveying Weir's life. For my full audio review, please see my Audiofile Magazine review.
Overall:
A moving book, very well narrated. Recommended.
Buy this book from:
Powells: Print*
Indiebound: Print*
Audible.com

I'm launching a brand-new meme every Friday! I encourage you to review any audiobooks you review on Fridays and include the link here. If you have reviewed an audiobook earlier in the week, please feel free to link that review as well. Thanks to Pam for creating the button.
Source: Audiofile.
* These links are all affiliate links. If you buy your book here I'll make a very small amount of money that goes towards hosting, giveaways, etc.
Copyright protected by Digiprove © 2011