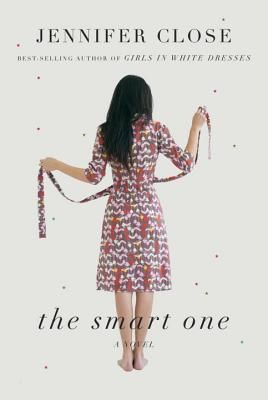 The Smart One by Jennifer Close
Published by Knopf, an imprint of Random House

Okay, so, I love Jennifer Close's The Smart One. In fact, it was my Bloggers Recommend pick for April. First, a little about the book (from the publisher):
Weezy Coffey's parents had always told her she was the smart one, while her sister was the pretty one. "Maureen will marry well," their mother said, but instead it was Weezy who married well, to a kind man and good father. Weezy often wonders if she did this on purpose—thwarting expectations just to prove her parents wrong.

But now that Weezy's own children are adults, they haven't exactly been meeting her expectations either. Her oldest child, Martha, is thirty and living in her childhood bedroom after a spectacular career flameout. Martha now works at J.Crew, folding pants with whales embroidered on them and complaining bitterly about it. Weezy's middle child, Claire, has broken up with her fiancé, canceled her wedding, and locked herself in her New York apartment—leaving Weezy to deal with the caterer and florist. And her youngest, Max, is dating a college classmate named Cleo, a girl so beautiful and confident she wears her swimsuit to family dinner, leaving other members of the Coffey household blushing and stammering into their plates.

As the Coffey children's various missteps drive them back to their childhood home, Weezy suddenly finds her empty nest crowded and her children in full-scale regression. Martha is moping like a teenager, Claire is stumbling home drunk in the wee hours, and Max and Cleo are skulking around the basement, guarding a secret of their own. With radiant style and a generous spirit, The Smart One is a story about the ways in which we never really grow up, and the place where we return when things go drastically awry: home.
And here's what I had to say about it:
Weezy's parents always said that she was "the smart one," but it is hard to feel brilliant when all three of your adult children have returned to live at home. In her sophomore novel, Jennifer Close creates a vivid and realistic portrait of a not always functional, but still loving, family and explores both the parent–child relationship and adult sibling rivalries.
Jennifer Karsbaek, Devourer of Books
Pre-order now: Indiebound | Amazon

Editor's Pick – I just love Close's ability to insert laugh-out-loud moments in a book otherwise filled with some very serious life events. It is this balance that makes her work truly special. – Jen
A few additional thoughts:
As someone who also loved Close's debut novel, Girls in White Dresses, one of the appeals of The Smart One for me was that it seemed to be the next step in adulthood. In Girls, everyone was pretty much young and single and out on her own. In The Smart One, Claire starts in this place, but ends up taking a step that many would consider backwards: moving back in with her parents.
Weezy's mother is wonderful and horrible at the same time. She says some pretty terrible things, but she is totally the elderly relative that you either have in your own family or have met at a friend's family dinners. She is so life-like that you can't help but laugh in recognition.
If you read Girls in White Dresses, know that this is a bit more of a conventional style. The point of view switches from character to character, but in a more traditional way, less jumping around.
Buy this book from:
Powells | Indiebound*
Source: Publisher.
* These links are all affiliate links. If you buy your book here I'll make a very small amount of money that goes towards hosting, giveaways, etc.
Copyright protected by Digiprove © 2013