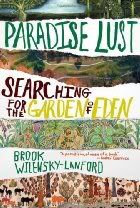 Paradise Lust: Searching for the Garden of Eden by Brook Wilensky-Lanford
Published by Grove Press, an imprint of Grove/Atlantic

When Brook Wilensky-Lanford learned that a relative of hers had, in his younger days, searched for the Garden of Eden on Earth, she was a bit perplexed. After all, her family definitely did not subscribe to Biblical literalism. As she began to dig a little further into his motivations, however, she found an entire subculture – both religious and secular – dedicated to the discovery of the Garden of Eden. Soon Wilensky-Lanford was on a quest of her own, to discover the breadth of the mania for Eden.
Paradise Lust is a comprehensively researched look at humankind's desire to return to an Edenic paradise – whether that paradise represents unity, civilization, or progress to any given supplicant – mixed with just a hint of humor and sarcasm. The subjectivity of humor could be a problem in a nonfiction book such as this, but Wilensky-Lanford does a fabulous job of separating the historical record from her own opinions.
It is simply fascinating how many different motivations have driven people to search for the Garden of Eden, particularly the fact that there were secular, not only religious ones. Similarly fascinating is the number of Eden-seekers who have placed paradise in the New World. Columbus, for example, believed he located the Garden in Venezuela, and more than one group has claimed its existence in middle America.
Wilensky-Lanford is an engaging writer, and brings a great deal of clarity to the profusion of quests for Eden. That people continue to search for the Garden on Earth is not an idea that would have ever occurred to me, but regardless, Paradise Lust makes for an intriguing read. Recommended.
Buy this book from:
Powells | Indiebound*
Source: Publisher, via NetGalley.
* These links are all affiliate links. If you buy your book here I'll make a very small amount of money that goes towards hosting, giveaways, etc.
Copyright protected by Digiprove © 2011