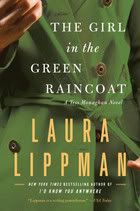 The Girl in the Green Raincoat by Laura Lippman
Published by Avon A, an imprint of Harper Collins

Tess Monaghan is not one who can tolerate sitting on the sidelines for long. Unfortunately, that is precisely what she has to do, on bed rest during a complicated and unplanned pregnancy. Separated from her normal life of as a PI, Tess has nothing much more to do than sit and look at her window. Every day, at approximately the same time, she sees a woman in a green raincoat walking a dog in a matching raincoat. One day, while Tess is watching, she sees the dog come running out, dragging his leash behind him, with his owner nowhere to be seen. Tess is not one to shy away from a mystery, so the question of what happened to The Girl in the Green Raincoat.
Perhaps my favorite thing about The Girl in the Green Raincoat is that Tess acknowledges the similarities between this story and Rear Window. Lippman's writing and plotting in this novella are superb. I enjoyed exploring the mysterious disappearance along with Tess. I think that her confinement put her more on par with the reader who in mysteries are at the mercy of the main character, much as Tess is at the mercy of those around her and whatever she can find on the internet.
I enjoyed this first look at Laura Lippman's work. Recommended
Buy this book from:
Powells| Indiebound | Amazon*
Source: Publisher, via NetGalley.
* These links are all affiliate links. If you buy your book here I'll make a very small amount of money that goes towards hosting, giveaways, etc.