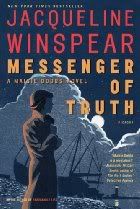 Messenger of Truth by Jacqueline Winspear
Published by Picador, an imprint of Macmillan

My reviews of the first three books in the series: Maisie Dobbs, Birds of a Feather, Pardonable Lies.

When Nick, an up-and-coming young artist, falls to his death while setting up a gallery for his much buzzed exhibition, the police are quick to rule it an accident and to rule his sister Georgiana, who believes that Nick was murdered, a meddlesome pain. Georgiana is not content to merely accept either of these rulings, however, and enlists the help of Maisie Dobbs, psychologist and investigator, to prove that Nick's death was no accident. In investigating the case, Maisie finds herself pulled into the world of art and wealthy art collectors, watching people spend obscene amounts of money on paintings while her assistant cannot even find the money to take his very sick little girl to the doctor. At the same time, Maisie finds herself pulling farther and farther away from her beau, Dr. Andrew Dene.
There has been a lot of upheaval in Maisie's life over the course of the books three and four. First she breaks away from her mentor Maurice, then from her boyfriend Andrew. Both rifts are based partly in Maisie's need to establish her own independence, but I cannot help but wonder if her new problems with Maurice contributed to her problems with Andrew, as he was a mentee of Maurice's as well. Although at times all of this made me very frustrated on Maisie's behalf, these difficulties about what it means to be an independent working woman in the 1930s help truly bring Winspear's setting and characters to life.
This mystery was a little more obvious and less compelling than the others I have read so far, but the book was still very engaging overall, and we got a glimpse of Maisie actually acting as a therapist for some clients, which was surprising and will possibly offer some interesting plot points in the future. Considering this is the 4th book in this series I have read since the beginning of the year and I am still excited to read the next one, I am continuing to recommend this series.
Buy this book from:
Powells | Indiebound |Amazon*
Source: Personal copy.
* These links are all affiliate links. If you buy your book here I'll make a very small amount of money that goes towards hosting, giveaways, etc.
Copyright protected by Digiprove © 2011