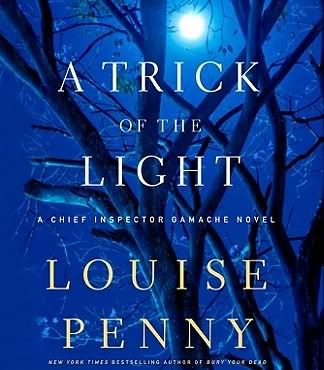 A Trick of the Light by Louise Penny, narrated by Ralph Cosham
Published in audio by Macmillan Audio, published in print by Minotaur Books, both imprints of Macmillan

In the fall of 2009, I discovered the amazing crime fiction blog, Jen's Book Thoughts. If you don't know Jen's blog and you ever read (or listen to) crime fiction, you must hie yourself over there immediately, er, as soon as you finish reading this post. One of Jen's recent posts in particular caught my eye, her effusive review of Louise Penny's The Brutal Telling. She sold me on it, and a few months later I read the first book in Penny's Inspector Gamache series, Still Life and thoroughly enjoyed it.
Unfortunately, those were the days before I had FictFact to manage my series intake, and I managed to more or less forget about the Gamache series for some time, until this latest book, A Trick of the Light was released. Suddenly I find myself in possession of the most recent audiobook, after hearing over and over again from Jen and other bloggers I trust how fantastic the audiobooks are, but at the same time being told that I really should read at least the two previous books before getting to this one. Here's a description of A Trick of the Light I found on Indiebound:
"Hearts are broken," Lillian Dyson carefully underlined in a book. "Sweet relationships are dead."
But now Lillian herself is dead. Found among the bleeding hearts and lilacs of Clara Morrow's garden in Three Pines, shattering the celebrations of Clara's solo show at the famed Musée in Montreal. Chief Inspector Gamache, the head of homicide at the Sûreté du Québec, is called to the tiny Quebec village and there he finds the art world gathered, and with it a world of shading and nuance, a world of shadow and light. Where nothing is as it seems. Behind every smile there lurks a sneer. Inside every sweet relationship there hides a broken heart. And even when facts are slowly exposed, it is no longer clear to Gamache and his team if what they've found is the truth, or simply a trick of the light.
If you suddenly see an influx of Louise Penny reviews on this blog, you'll know why. It is me, desperately trying to catch up so I can listen to A Trick of the Light. If you're curious, you can listen to a clip and see why I'm so looking forward to it.
Buy this book from:
Powells: Audio/Print*
Indiebound: Audio/Print*
I'm launching a brand-new meme every Friday! I encourage you to review any audiobooks you review on Fridays and include the link here. If you have reviewed an audiobook earlier in the week, please feel free to link that review as well. Thanks to Pam for creating the button.
Source: Publisher.
* These links are all affiliate links. If you buy your book here I'll make a very small amount of money that goes towards hosting, giveaways, etc.
Copyright protected by Digiprove © 2011