Welcome to Saturday Story Spotlight, my feature where I discuss books my husband and I are reading with our son, Daniel. These are books that he, we, or all of us particularly enjoy.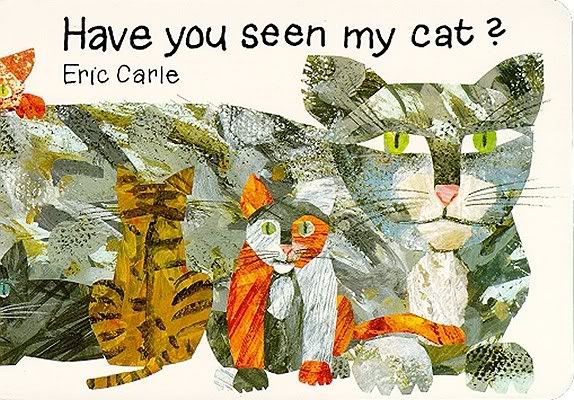 Have You Seen My Cat? by Eric Carle
Published by Little Simon, an imprint of Simon & Schuster
When a young boy's cat goes missing, he will stop at nothing to find her. He travels the world in order to to find his poor, lost, feline, asking person after person whether or not they have seen his cat and being directed to numerous other sorts of cats, mostly but not only big cats, instead.
Talk about predictive text.
Nearly every page of Have You Seen My Cat is composed of two pieces of text. The boy asking "have you seen my cat?" and responding to the proffered cats with the response, "that's not my cat." Perhaps this isn't the very most exciting thing for mommy and daddy to read, but fabulous for toddlers. Daniel loves it when I read him the book, sure, we can talk about the attributes of the different cats, but just as much he loves to read the book on his own. He flips from page to page saying, "no my cat! No my cat!"
Best of all, this is a book that can grow with Daniel for awhile. Right now we're talking about the sizes and colors of the cats, occasionally naming them for his benefit, but we can continue to talk about the different kinds of cats out there. Until then, though, I'll cherish the calls of "no my cat!"
Highly recommended
Buy this book from:
Powells | Indiebound*
Source: Personal copy
* These links are all affiliate links. If you buy your book here I'll make a very small amount of money that goes towards hosting, giveaways, etc.
Copyright protected by Digiprove © 2011