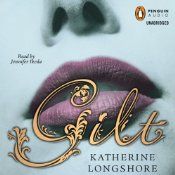 Gilt by Katherine Longshore, narrated by Jennifer Ikeda
Published in audio by Penguin Audio; published in print by Viking Juvenile, both imprints of Penguin
Synopsis:
From the publisher:
When Kitty Tylney's best friend, Catherine Howard, worms her way into King Henry VIII's heart and brings Kitty to court, she's thrust into a world filled with fabulous gowns, sparkling jewels, and elegant parties. No longer stuck in Cat's shadow, Kitty's now caught between two men–the object of her affection and the object of her desire. But court is also full of secrets, lies, and sordid affairs, and as Kitty witnesses Cat's meteoric rise and fall as queen, she must figure out how to keep being a good friend when the price of telling the truth could literally be her head.
Thoughts on the story:
Oh, you guys, I loved Gilt so hard. SO hard. Catherine Howard is a hard wife of Henry VIII to know what to do with. Unlike Anne Boleyn it seems likely that she was actually guilty of the crimes of which she was accused, so then the question becomes whether she was naïve or calculating; did she somehow fall into a trap of adultery or was she out to get what she wanted? The problem with telling her story is that the naïve girl who simply wants to love her dear Thomas Culpepper is sort of boring, and the young woman who is not above using her sexuality to manipulate situations in her favor isn't the most likable of characters.
Katherine Longshore solves this problem by giving us the spoiled, manipulative Cat that we love to hate, but not forcing the reader to experience the entire story through her unsympathetic point of view. Instead of we are treated to Cat's meteoric rise and downfall through the eyes of Kitty Tilney, a hanger-on and distant relation who always considered Cat Howard to be her best friend. Cat uses and abuses Kitty in ways that increase the drama of the story without giving way to melodrama. It also allows for a story of Kitty's personal growth in a real and organic way, which means that Gilt isn't just repeating a tired old Tudor storyline.
One note: Gilt is being marketed as a young adult novel and certainly works as one, partly because of the ages of the main characters, but it is a very mature young adult novel and doesn't shy away from the adultery, rape, and politics happening at court. There is no reason why adult fans of Tudor historical fiction should shy away from this one based on the marketing label.
Thoughts on the audio production:
Jennifer Ikeda does a great job narrating Gilt. She's believable as Kitty and does a good job with the voices. Like Longshore, she does a wonderful job finding the balance between expressing the drama inherent in the story and avoiding unnecessary melodrama.
For more on the audio production, please see my review for Audiofile Magazine.
Overall:
I have every confidence that I would have loved Gilt in print, but the audio is a fantastic option as well. Really, I'm just glad I got to experience Longshore's version of Catherine Howard.
Buy this book from:
Powells: Print*
Indiebound: Print*
Audible.com

I'm launching a brand-new meme every Friday! I encourage you to review any audiobooks you review on Fridays and include the link here. If you have reviewed an audiobook earlier in the week, please feel free to link that review as well. Thanks to Pam for creating the button.
Source: Audiofile Magazine.
* These links are all affiliate links. If you buy your book here I'll make a very small amount of money that goes towards hosting, giveaways, etc.
Copyright protected by Digiprove © 2012