Welcome to Saturday Story Spotlight, my feature where I discuss books my husband and I are reading with our son, Daniel. These are books that he, we, or all of us particularly enjoy.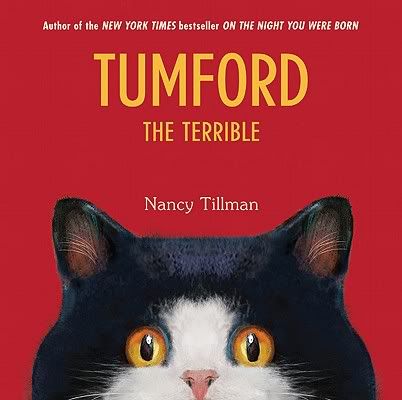 Tumford the Terrible by Nancy Tillman
Published by Feiwel & Friends, an imprint of Macmillan
Tumford isn't really terrible, exactly; in reality, he is a very nice cat. The problem is that, like many cats, he has a tendency to make messes and, when he does, he has a very strong aversion to the words, "I'm sorry." Day after day he gets into scrapes around the house, and instead of owning up to what he has done, he hides all over the place from his very pleasant human parents. Tumford's parents are understandably very frustrated with the situation, but instead of getting angry, they decide to try a different technique. They will give him a treat, take him to the big fair that is in town, if only he will promise to apologize for anything he does that goes wrong. As you might guess, Tumford isn't able to behave himself completely at the fair. His first reaction when things go oh-so-wrong is still to hide, but as he is hiding, Tumford thinks about his parents, and realizes what he really wants to do is to make them proud.
Tumford the Terrible is a very sweet book. Tillman found a very good balance with Tumford's actions. He is never deliberately malicious, just naturally curious in the way that cats and small children tend to be and, as is often the case with cats and small children, his curiosity has a tendency to end messily. Hiding from one's mistakes is an unfortunate reaction that people of all ages have, so showing children that it is better to own up to one's mistakes is a very good message. Even better, Tillman manages to keep the message from becoming a heavy-handed MESSAGE.
Part of what keeps Tumford the Terrible from becoming too preachy is Tillman's jaunty verse, but most of the credit belongs to the absolutely gorgeous illustrations. You must find a copy in a bookstore and flip through it, my personal favorite is when Tumford and his family are marching off to the fair. The picture is a full spread, with Tumford marching assertively in front of his family wearing yellow boots. It is absolutely gorgeous.
So clearly I like Tumford the Terrible, but what about my toddler? Some of the pages have a bit more text than he likes to sit still for, but they are well-balanced with much shorter pages to keep the story moving for younger readers, which keeps him actually seated and engaged for the entire book. An even better measure of enjoyment, though, is the fact that the "cat book" has become a frequent request.
Highly recommended.
Buy this book from:
Powells | Indiebound*
Source: Review copy
* These links are all affiliate links. If you buy your book here I'll make a very small amount of money that goes towards hosting, giveaways, etc.
Copyright protected by Digiprove © 2011