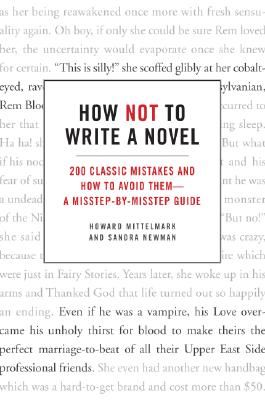 How Not to Write a Novel: 200 Classic Mistakes and How to Avoid Them, a Misstep-by-Misstep Guide by Howard Mittelmark and Sandra Newman
Published by Harper Paperbacks, an imprint of HarperCollins
There are hundreds, thousands, millions of ways to write a novel, many of them good. Of course, many of them are also oh so very bad. Luckily, if you WANT to write a bad novel, Howard Mittelmark and Sandra Newman have got you covered. These two long-time denizens of the world of writing have identified 200 Very Bad Things writers do in their novels in categories such as plot, character, style, and world building and have laid them out with detail so you can either avoid them or aim for them, depending on what you're going for.
The advice here is wonderful. Mittelmark and Newman are not telling you what to write or how to write, because there are so many different things that work for different people. But seriously, no matter who you are, this stuff is bad and should be avoided at all costs. I'm not sure that by simply avoiding all of this you can write a good novel, but you can definitely make your novel better, something that will be hugely helpful for all of you beginning your NaNoWriMo work (you may want to revise with this by your side).
There was something that seemed slightly off, I felt that I didn't always know from one moment to the next whether they were warning writers away from something bad or pretending to encourage the terrible thing. However, the fact that the conceit didn't always seem consistent never impeded my ability to understand just what was horrible and what was not. I am also able to forgive any inconsistencies because this conceit made How Not to Write a Novel hugely engaging to read. I figured I'd get some pointers for my own potential writing and more ways to think about what I read, but my reading of How Not to Write a Novel was as much about enjoyment of the style and authorial voice as it was about analyzing specific writing issues.
If all writing books were as fun and helpful as How Not to Write a Novel, I might have a blog of nothing but writing books.
Buy this book from:
Powells | Indiebound*
Source: Personal.
* These links are all affiliate links. If you buy your book here I'll make a very small amount of money that goes towards hosting, giveaways, etc.
Copyright protected by Digiprove © 2012-2013