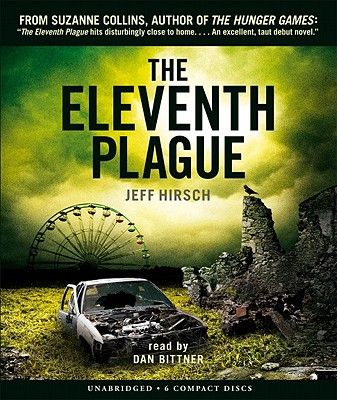 The Eleventh Plague by Jeff Hirsch, narrated by Dan Bittner
Published in audio by Scholastic Audio, published in print by Scholastic Press
Synopsis:
From the publisher:
In an America devastated by war and plague, the only way to survive is to keep moving.

In the aftermath of a war, America's landscape has been ravaged and two-thirds of the population left dead from a vicious strain of influenza. Fifteen-year-old Stephen Quinn and his family were among the few that survived and became salvagers, roaming the country in search of material to trade. But when Stephen's grandfather dies and his father falls into a coma after an accident, Stephen finds his way to Settler's Landing, a community that seems too good to be true. Then Stephen meets strong, defiant, mischievous Jenny, who refuses to accept things as they are. And when they play a prank that goes horribly wrong, chaos erupts, and they find themselves in the midst of a battle that will change Settler's Landing–and their lives–forever.
Thoughts on the story:
I would have perhaps liked to have more information about how exactly the world as we now know it collapsed in The Eleventh Plague, but that might not be a reasonable request since Stephen is a teenager who was born after the collapse. The Eleventh Plague's biggest strength is its depictions of how Stephen adjusts to living in a civilization, after having lived all his life on the move. He has heard stories about the organizations and games, so school and baseball aren't unfamiliar, but Stephen has trouble accepting the trust inherent in civilization. The people of Settler's Landing aren't his family, they don't know him, so why should they help him?
Thoughts on the audio production:
Dan Bittner is a good fit for The Eleventh Plague. He does not sound fifteen exactly, but his voice is youthful enough that I could accept him as Stephen without much problem. He narrates in a natural voice, no attempts (none noticeable, anyway) to make his voice higher as an attempt to sound younger. His delivery is natural and he captures Stephen's angst as he tries to fit into Settler's Landing's civilization.
Overall:
An enjoyable listen.
Buy this book from:
Powells: Audio/Print*
Indiebound: Audio/Print*
Source: Personal copy.
* These links are all affiliate links. If you buy your book here I'll make a very small amount of money that goes towards hosting, giveaways, etc.
Sound Bytes is a meme that occurs every Friday! I encourage you to review your audiobooks on Fridays and include the link here. If you have reviewed an audiobook earlier in the week, please feel free to link that review as well. Thanks to Pam for creating the button.
Copyright protected by Digiprove © 2013