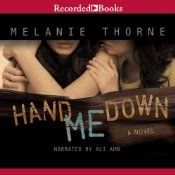 Hand Me Down by Melanie Thorne, narrated by Ali Ahn
Published in audio by Recorded Books; published in print by Plume, an imprint of Penguin

Synopsis:
Life has not been easy for fourteen year old Elizabeth Reid and her sister Jaimie. Things got better for awhile once their  mother left their abusive, alcoholic father. The man she brought into their lives next, though, was worse. Terrance is a convicted sex offender who has been jailed more than once for the crimes of exposing himself to and assaulting women. Although Liz's mother swears up and down that Terrance poses no threat to her adolescent daughters, the lascivious looks and glancing touches he gives Liz tell her otherwise. Worse still are his threats that if Liz pushes back too hard on his flirtatious advances he will turn to her sister. It is almost a relief when Terrance's parole officer decides that he can have no unsupervised visits with the girls, meaning he can no longer live in the same house as his stepdaughters. The only problem is that Liz's mother chooses her new husband over her daughters, leaving the girls' housing to the whims of friends and family.
Thoughts on the story:
With Hand Me Down, Thorne has created a story that draws in the reader immediately. Within less than half an hour of starting the audio, I was tweeting about how incensed I was on behalf of the main character, because the adults in her life put her in such a terrible position. Liz's mom, in particular, is barely worthy of the title. Thorne does explore her backstory a bit, so that the reader can get an idea of what may have made her so monumentally stupid in this situation, but it isn't so much that I ever really gave up hating her for her willful blindness. The hate didn't make me dislike the book, though. On the contrary, the hate just showed me how completely invested I was in Liz's story, and I, well, devourered Thorne's story.
Now, yes, the protagonist is fourteen. No, this is not a young adult book, although it certainly has crossover appeal. Why is this an adult book? Well, partly because that is just how it is marketed. Partly also because the setting makes Liz more a contemporary of mine (perhaps even older than me), rather those of kids who are teenagers today. It also just feels as if it was written with an adult audience in mind, which is sort of an intangible quality, but there nonetheless.
Thoughts on the audio production:
I was quite impressed with Ali Ahn's narration. She does a fabulous job differentiating between voices young and old, male and female. Her portrayal of Elizabeth in particular is quite moving. My only qualm about the audio production is that there were occasionally slightly odd pauses, seemingly the result of imperfect editing. The pause would seem as if the scene had ended, but it would quickly become clear once the narration resumed that the same scene was still ongoing. This happens just a handful of times so it isn't enough to impede the overall enjoyment of this production – particularly with Ahn's masterful narration – it is just enough to notice.
Overall:
A moving book paired with an equally moving performance, Hand Me Down is a fabulous listen.
Buy this book from:
Powells: Print*
Indiebound: Print*
Audible.com

Source: Author.
* These links are all affiliate links. If you buy your book here I'll make a very small amount of money that goes towards hosting, giveaways, etc.
Sound Bytes is a meme that occurs every Friday! I encourage you to review your audiobooks on Fridays and include the link here. If you have reviewed an audiobook earlier in the week, please feel free to link that review as well. Thanks to Pam for creating the button.
Copyright protected by Digiprove © 2013