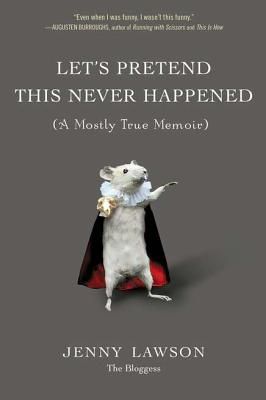 Let's Pretend This Never Happened: A Mostly True Memoir by Jenny Lawson, aka The Bloggess
Published by Amy Einhorn/Putnam Books, an imprint of Penguin
If you've spent much time on the internet, you have probably run across Jenny Lawson, aka The Bloggess, at one point or another. She's known for her picture of Wil Wheaton collating paper, her strange fascination with stuffed animals dressed up in odd clothes, and her openness about battling anxiety and depression. If you've only read her blog casually, though, you may find yourself more perplexed than amused by the humor in some of her posts.
Luckily her new memoir, Let's Pretend This Never Happened: A Mostly True Memoir works whether you are already a fan of Lawson's blog or not. In fact, in giving the reader a thorough introduction to who exactly Lawson is and how her mind works, it is a strong possibility that Let's Pretend This Never Happened will give readers a greater appreciation of what happens on The Bloggess.
Take, for example, her obsession with animals dressed up in people clothes. Let's Pretend This Never Happened moves chronologically through Lawson's life, and the first major revelation is the fact that her father was a taxidermist. Okay, so she took her father's passion and has her own quirky take on it, you may think. This love takes on a whole new dimension, though, when you read Lawson's anecdote about the dead squirrel her father put in a snack box and then used as a puppet to surprise her and her sister. Lawson's life is memoir-worthy, because, perhaps scarily, the squirrel puppet incident is not unique, nor is it the strangest and most dramatic thing that has ever happened to her.
When I read these stories to friends, I'm always shocked when they stop me to ask, "Wait, is that true?" during the most accurate of all stories. The things that have been changed are mainly names and dates, but the stories you think couldn't possibly have happened? Those are the real ones. As in real life, the most horrible stories are the ones that are truest. And, as in real life, the reverse is true as well. –p. 2 (footnote 2)
Let's Pretend This Never Happened is, in short, hilarious. Lawson shows a brilliant ability to be open and vulnerable, while at the same time poking fun at herself at every possible juncture. Her writing is engaging, but her personality is even more so. You will find yourself so wrapped up in Lawson's life that you won't want to put the book down, nor will you want it to end. Highly recommended.
Buy this book from:
Powells | Indiebound*
Source: Publisher.
* These links are all affiliate links. If you buy your book here I'll make a very small amount of money that goes towards hosting, giveaways, etc.
Copyright protected by Digiprove © 2012