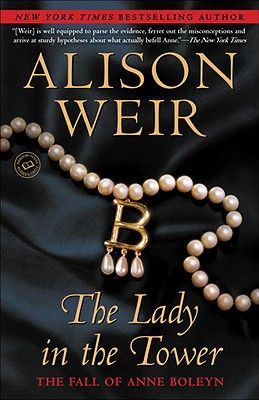 The Lady in the Tower by Alison Weir
Published by Ballantine Books, an imprint of Random House
Accused of incest, adultery, witchcraft, and plotting the death of her husband the king, Anne Boleyn was the first royal woman to be put to death for crimes of this nature. What really caused her downfall, though? Was Henry VIII simply tired of her, had she become a harridan who he no longer wished to deal with? Was she actually guilty of adultery and incest? Or perhaps Anne was an innocent victim in Henry's all-consuming quest for a legitimate male heir? In The Lady in the Tower: the Fall of Anne Boleyn, historian Alison Weir examines the evidence against Anne and those around her, and comes to a conclusion not often promoted in popular Tudor historical fiction.
Weir tells the story of Anne's fall from beginning to end, all the way to its impact on her daughter, the future Queen Elizabeth I. Along the way she explores the evidence and counter evidence both for Anne's alleged guilt, and for the plethora of theories that have built up around her accusal, conviction, and execution. Weir writes clearly, and ostensibly without much bias. She seems to know the Tudor period inside and out, and her arguments are convincing, based as they are on documents and Tudor-era norms.
Although packed with facts, theories, and evidence, The Lady in the Tower never becomes dull or dry. Anne's story is a fascinating and dramatic one, and Weir lets that come through, without the drama prejudicing her arguments. This is a very well-written and informative history that has undoubtedly influenced the way I view Anne's trial and fall. Highly recommended.
Buy this book from:
Powells | Indiebound*
Source: Library.
* These links are all affiliate links. If you buy your book here I'll make a very small amount of money that goes towards hosting, giveaways, etc.
Copyright protected by Digiprove © 2012