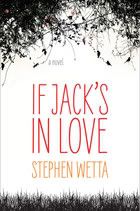 If Jack's In Love by Stephen Wetta
Published by Amy Einhorn Books, an imprint of Penguin

If there's anything worse than being a 12-year old boy, it is being a brilliant 12-year old boy born into the family that the whole town shuns. Oh, and even worse than that is having your brother suspected in the disappearance of one of the town's most popular young men, who just happens to be the older brother of the girl you have a crush on. Actually, life as Jack Witcher is just sort of crummy in general.
If Jack's In Love is a wonderful coming-of-age story. Jack is a compelling young man with a very interesting voice. His character was consistent with that of a 12-year old, without falling into the trap of being particularly obnoxious in an effort on Wetta's part to prove that Jack is indeed 12.
The storyline Wetta has created is very interesting, looking at the incidents between Jack's brother Stan and the missing boy, wondering whether or not Stan really did something dire and irreversible. The real heart of the story, however, is Jack and his reactions to the world around him, his fight to be accepted without giving up who he is at heart.
There is much discussion these days about what constitutes a young adult book, and what an adult book. Many people would likely classify If Jack's In Love immediately as young adult, due to the age of its main character. It seems, however, that Wetta is coming at this from a distinctly more adult point of view, while still staying true to Jack. Although there is certainly cross-over appeal for teenagers, If Jack's In Love is a bildungsroman written for an adult audience – and a good one, at that.
Recommended.
Buy this book from:
Powells | Indiebound*
Source: Publisher.
* These links are all affiliate links. If you buy your book here I'll make a very small amount of money that goes towards hosting, giveaways, etc.
Copyright protected by Digiprove © 2011