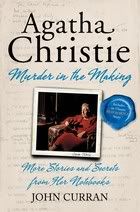 Agatha Christie: Murder in the Making by John Curran
Published by Harper, an imprint of HarperCollins

Agatha Christie is one of the most prolific, best-selling authors in the world. More than 3o years after her death, she is still read and beloved by millions. The question of however she came up with so many plots, and with such frequency continues to fascinate writers and readers alike. For everyone who has ever marveled at Christie's immense output, John Curran's dive into her private notebooks in Agatha Christie: Murder in the Making is fascinating and occasionally revelatory.
In many ways, Agatha Christie: Murder in the Making is a partial biography of Christie's body of work. Curran progresses through each decade of Christie's work, highlighting some of the more significant and representative  works from each period. Not content just to discuss her books based on his own research, Curran actually combs though Christie's less-than-organized notebooks to show the reader her own initial jottings on the various titles.
It is important to note that Curran's primary audience is inveterate Christie fans, not those of us who have read a handful of titles. Because he is discussing the intricacies of Christie's work, there is no room to be shy about spoilers, often the most important aspect of a given novel is the ending, rather than the beginning, and to attempt to account for everyone's sensibilities and skirt around the issue would be prohibitively difficult. In order to protect those who may be worried about spoilers for the books they have yet to read, Curran does include at the beginning of each chapter a list of the books which will be spoiled, which they then are to greater or lesser extent.
Although Christie's own writings in her notebooks lend Curran's work an air of authority, they are often the most challenging part of Agatha Christie: Murder in the Making. They are often staccato and vague, which makes them particularly difficult to parse if one hasn't read the work in question. Luckily, Curran excels at pointing out both the significance of the work and the significance of Agatha's notes. He is comprehensive enough that one can skim or even skip many of Christie's notes and still receive a firm grounding in her oeuvre.
Fascinating, but don't pick it up yet if you have a great deal of Christie's work in front of you and are concerned with spoilers.
Buy this book from:
Powells | Indiebound*
Source: Publisher.
* These links are all affiliate links. If you buy your book here I'll make a very small amount of money that goes towards hosting, giveaways, etc.
Copyright protected by Digiprove © 2011