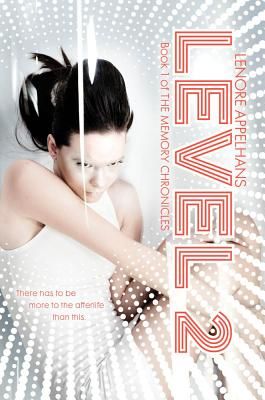 Level 2 by Lenore Appelhans
Published by Simon & Schuster Books for Young Readers, an imprint of Simon & Schuster
Note: I have been friendly with Lenore Appelhans for some time in the book blogging community, but we have never been close, nor even consistent commenters on each other's blogs. I received my copy of the book from the publisher, not from Appelhans, and this is my unvarnished opinion.
Felicia has been in Level 2 since her sudden death at the age of 18. Her days consist of little more than re-watching memories from her own life. Things are starting to change in Level 2, though. The girl in one of the neighboring chambers dies, but nobody seems to notice. In fact, nobody but Felicia remembers that she was even ever there. It is when Julian,  a boy from Felicia's past, shows up, though, that things really start to get strange.  Felicia and Julian have a complicated history, and she isn't exactly thrilled to see him, but she still agrees to go with him when he helps her escape from her hive and tries to enlist her in a rebellion.
Lenore Appelhans's version of the afterlife is unlike any I have ever experienced: the hives, the memories that are replayed and used as currency. What is more familiar is the ongoing war between good and evil that does not end with death. There are some connections to Judeo-Christian traditions, but at the same time this is not a religious or preachy book in the least. What Level 2 is is an incredibly engaging book. I found myself reading so quickly that I almost felt that the pacing was off. It was me, though, and not the book; when I forced myself to slow down to a normal reading speed the pacing worked well, but if I did not pay attention I would find myself racing through the book at breakneck (breakeye?) speed because of how purely engaging the book is.
In Level 2, Appelhans creates a world and a mythology that is unlike any I've experienced before, but that is still believable and internally consistent and is the basis for an incredibly compelling story.
Buy this book from:
Powells | Indiebound*
Source: Publisher.
* These links are all affiliate links. If you buy your book here I'll make a very small amount of money that goes towards hosting, giveaways, etc.
Copyright protected by Digiprove © 2013