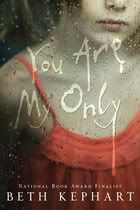 You Are My Only by Beth Kephart
Published by EgmontUSA

Baby is the only bright spot in Emmy Rane's life, until the day she vanishes. Emmy runs into the house for but a moment, and when she comes back, Baby is nowhere to be seen, nowhere to be found. Mad with grief and suspected in the disappearance of her child, Emmy soon finds herself institutionalized. Fourteen years later, Sophie is in yet another new house in yet another new town; not that moving makes things so difficult, since her mother homeschools her and rarely lets her leave the house or talk to anyone else. This time is different, though, because this time Sophie surreptitiously makes friends with the next door neighbor and the aunts who are raising him. As she begins to break out of the shell her mother has concocted, Sophie begins to learn things about her life that will change it for good.
I generally adore Beth Kephart's poetic writing style, but her lovely prose does also have a tendency to put the reader at a remove from her story and characters, as I discovered in Dangerous Neighbors. This problem is exacerbated in You Are My Only by the fact that there are two main characters, who each have their share of narration and who are split by place and time. Emmy is a particularly difficult character to get a handle on. Is she supposed to be of below average intelligence or mentally ill even before Baby disappeared? If not, why is she so odd even from the beginning? Why is it so easy to paint her as crazy and have her institutionalized? What is with the fact her child didn't seem to have a name, other than Baby? Sophie is a more robust character, and one who is easier to identify with, as she begins to break out of the constraints her mother has put on her life, and begins uncovering the secret of her past.
I think my biggest issue with You Are My Only is that it is written as a young adult book at all. There's nothing I would particularly worry about in giving it to any teenager, but with half of the story told from Emmy's point of view, it seems it might have worked better as an adult novel. Perhaps had it been written as an adult novel, the mother's pain of losing her precious child could have been written in a way that was more immediate and less removed. I assume it is because this is a young adult novel that Sophie is the better developed character, but that seriously weakens the story as a whole. I would have liked to see them developed equally well, tapping more fully into both the woman and the teenager. That could have been an immensely powerful book, whereas this is somewhat disappointing – especially because the connection between the two stories is painfully obvious. If this story had to be young adult, Emmy should have been given an even smaller role, or none at all; as it is she simply detracts from the emotional charge of the novel.
I really like Kephart's young adult writing when the story she is telling makes sense as a young adult book, and I think I would enjoy her writing for adults as well, but You Are My Only is neither fish nor fowl and simply doesn't work for me. Try Nothing But Ghosts or Undercover instead.
Buy this book from:
Powells | Indiebound*
Source: Publisher, via Netgalley.
* These links are all affiliate links. If you buy your book here I'll make a very small amount of money that goes towards hosting, giveaways, etc.
Copyright protected by Digiprove © 2011